Community News
10.19.2012
Community Round-Up: October 19th, 2012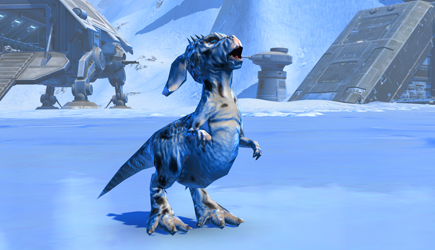 Hello and welcome!
It's time for the Community Round-Up. Each week, we scour the forums, fan sites, and reddit, finding some of the most interesting discussions in the community as well as player-created events happening on certain servers in The Old Republic™.
If you have nominations for next week's Round-Up, please post them in this thread. Please remember the Community Round-Up blog is meant to highlight interesting, productive discussions and server events - not the most talked about forum threads.
Let's begin!
Server Events
Get to know the community on your server by participating in player-created events. Below are some occurring this week! We have updated our Server Forums so be sure to check out the Server Forums to find other events happening on your individual server.
SWTOR Subreddit
Forum Round-Up
Do you adjust attitude/personality to the character/class?: Path-x asks the community if they adjust their character's personalities and choices depending on the class they play or if they play all of their characters with the same attitude. Some of your answers included:
Eightus: "Yep i create a different personality for each of my characters and I choose the choices that they would pick. I also try to develop that personality over the course of the game."
Timarick: "my main is me had I grown up as a Jedi, but he's clearly me once you get past it all. But all my characters are based on someone I know in real life and is merely a Star Wars adaptation, so what I try to do with each character is use the backstory and setting I created for them with my own stories, but play it as sincerely as possible to what they people they are based on in real life situations. So example, my Sith Warrior is the jealous younger brother of my Jedi Knight, so he's saddled with that backstory, but he's also based on my ACTUAL little brother, whose typically disinterested and raw, often being lazy, though dangerous when you piss him off. And to me it just feels more alive."
Characters! (Story time): Jessnjam shares a detailed back story for their smuggler and asks their fellow community members to do the same!
YoshiRaphElan: "My trooper: Backblast, being the son of a Mandalorian warrior, was trained extensively in the arts of combat. When his father left him and his adopted brother on Coruscant, Backblast joined the Republic military. Impressed with his skills, the Republic soon placed him in Special Forces. There he proved himself as a terrific medic but also a proficient demolitionist. He got his nickname when one of his training bombs exploded the wrong way, tearing out one of his eyes and scarring his face."
TalonVII: "Well in reply to your first one i'll do my Vanguard. Stomvhal Skirrata is the son of an absentee Mandalorian father and a Republic Medic. Mandalorian was hurt during a hunt but actually showed some compassion on Onderon when a group of kids were about to be hit by errant blasterfire by the mark he was tracking. He threw himself infront of the blaster fire saving the kids but he was wounded in a few places. The republic medic oncall treated him and the two had a romance [ofcourse]."
Thank you for all of the fun and interesting discussions this week! There are many other great conversations happening in the forums that are not on this list so be sure to look around. Please don't forget to nominate your favorite threads and events for next week's Round-Up by posting here!