Community News
05.04.2012
Star Wars: The Old Republic The Return of Fan Friday
In celebration of "May the 4th be with you" we've decided to create a special Fan Friday. For Star Wars™ Day, we are highlighting some of the most creative and talented members of our community by showcasing them in our Community Blog!
This week we have a community member spotlight, new forum emoticons, and to begin with, some amazing fan art.
Community Art Spotlight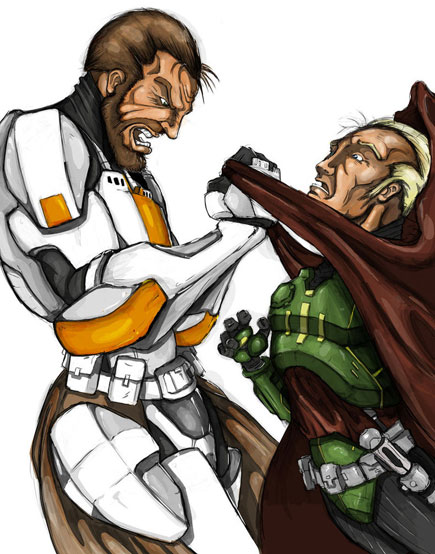 Community member Eppywon decided to show off his Trooper, Caeric, by creating the incredible artwork above.
Spartanash shows off their amazing artistic skills with the two pieces above: to the left, Raven Klusto, a Bounty Hunter Powertech and on the right, Alexandria Snow, a Smuggler Gunslinger.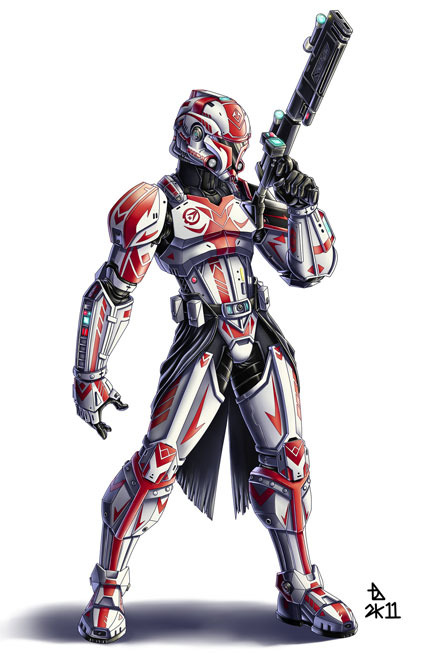 RanvirBorealas depicts his in-game character, Korwyn Roxton (a Vanguard Trooper), in the extraordinary and stylish piece of art above.
Community Member Spotlight
Iwipe (AKA Dulfy)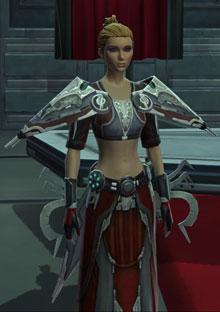 Iwipe, who also uses the handle 'Dulfy' away from our Forums, has been an incredible asset to our community since she joined in August 2011. She has created several forum guides including: the Operation Loot Drop List, the 1.2 Dailies and PvE Gearing Guide, the Hardmode Flashpoint Loot List, and the Companion Customizations Guide.
Most recently, she helped out tons of players with her popular Rakghoul Outbreak Guide, providing the latest information on missions and rewards as they were revealed. We thought she'd be a great fan to talk to for the relaunch of Fan Friday.
BioWare: How did you first get into Star Wars™: The Old Republic™?
Dulfy: I first heard about Star Wars: The Old Republic while playing another MMO during the fall of 2011 via word of mouth. The combination of Star Wars, BioWare, storytelling, and MMO really perked my interest and I pre-ordered right away! I was lucky enough to get invited to a few weekend tests and immensely enjoyed my time there. When December rolled around, my entire guild decided to migrate over to The Old Republic and I have been playing since pre-launch.
What made you want to provide so much info for the community?
Forums are a great source of information but it takes time to dig through and find relevant info so I started writing guides and such to help the community out. I spend a little bit of my free time gathering that information and compiling it together in an easy to read format so that people can focus more of their free time on playing the game.
What's your process usually like for putting a guide together? How long does it take you?
I go through a checklist with every guide:
What is needed?
Did someone already do an excellent coverage of it?
Find the facts.
Verify the facts.
Take in-game screenshots, videos etc.
Write the guide.
Publish it and listen to community feedback – if there is anything they don't like or if they find something wrong I will go and correct/change it.
Simple guides like a Flashpoint guide takes maybe 2-3 days while other guides like the Sorcerer/Sage healing guide or PvE endgame gearing take weeks or even months to finish because it takes time to get a good grasp of the game mechanics.
What class do you enjoy playing the most and why?
I have this strange obsession with playing healer classes and only healer classes. I guess I like the idea of healers helping other people and save them in time of need! I have a level 50 Sorcerer and a level 50 Commando at the moment and planning to level up an Operative so I can have all the healer classes available in the game.
What are you looking forward to the most in The Old Republic?
Oh quite a lot! I am a progression raider at heart so I always look forward to new Operations and Flashpoints to conquer. Also, after the Rakghoul dynamic event, I can't wait for another event! The scavenger hunt, daily quest unlocks, world PvP, and solidarity in the community via the spread of Rakghoul Plague made this event stand out. Lastly, I am a big a fan of vanity things like outfits, pets, and mounts. I personally cannot wait for new outfits and the ability to add augment slots to existing armor.
Which guide that you've created do you think is the most useful for new players?
I think that would be 1.2 Dailies and PvE Gearing guide I created that is now pinned in the Flashpoint & Operation section of the Forums (big thank you to the wonderful Community Representatives). I feel like the leveling experience is fairly smooth and most people can get to 50 without much outside guidance.
Forum Emoticons (Smilies)
Ah yes, emoticons are back! Enjoy this new batch of Rakghoul emoticons to use on our Forums. This new set highlights the Rakghouls, the deformed mutants responsible for the recent Rakghoul Plague outbreak on Tatooine.

To use one of these or any other forum emoticons, click "More" in the Smilies section on the right side of where you make a new post. From there, simply decide which icon you want to use and click it to put it in your post.
---