News Articles
04.17.2012
Character Transfers Now Available for Asia Pacific Territories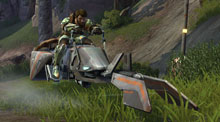 Today we are excited to announce that from now until April 24, 2012, 2:01PM AEST, 4:01PM NZST, 12:01PM HKT, 12:01PM SGT, qualifying players in the Asia Pacific territories who purchased Star Wars™: The Old Republic™ prior to the game's official launch in their region will be able to transfer their characters, for free, to a locally-hosted server!
To qualify for character transfer to an Asia Pacific server, players in Australia, New Zealand, Hong Kong and Singapore must have purchased their game, redeemed a Game Product Registration Code and either have or have had entered valid billing information or a Pre-Paid Game Time Card prior to 5:01PM AEDT / 7:01PM NZDT / 2:01PM HKT / 2:01PM SGT on Tuesday, February 28, 2012. Only characters created before this time qualify for transfers. You can check to see if you qualify by going to your "My Account" screen on www.StarWarsTheOldRepublic.com and clicking the "Asia Pacific Transfers" link on the right-side menu.
If you qualify, you can request character transfers to an Asia Pacific server by filling out and submitting the information on the Asia Pacific Transfers page. You will have until 2:01PM AEST / 4:01PM NZST / 12:01PM HKT / 12:01PM SGT on April 24th, 2012 to finalize your information and place your request.
Character transfers will begin processing on April 24, 2012, 8:00PM AEST, 10:00PM NZST, 6:00PM HKT, 6:00PM SGT and may take upwards of seven days to complete all transfer requests. Once your character has been transferred to your new Asia Pacific server, an email will be sent to the address tied to your Star Wars: The Old Republic account informing you that your request has been processed.
For more information on transferring characters to an Asia Pacific server, please visit our Asia Pacific Launch FAQ. If you have any questions that aren't answered in the Launch FAQ, we encourage you to contact our 24-hour Customer Service. You can also keep up to date on the latest news and updates about Star Wars: The Old Republic by visiting www.StarWarsTheOldRepublic.com, as well as joining us on Twitter and Facebook.