Community News
10.25.2012
Community Round-Up: October 25th, 2012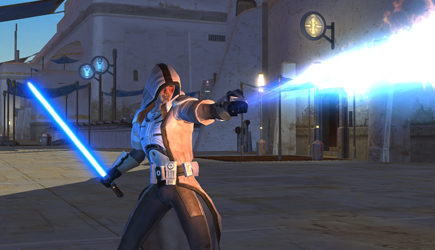 Hello and welcome!
It's time for the Community Round-Up. Each week, we scour the forums, fan sites, and reddit, finding some of the most interesting discussions in the community as well as player-created events happening on certain servers in The Old Republic™.
If you have nominations for next week's Round-Up, please post them in this thread. Please remember the Community Round-Up blog is meant to highlight interesting, productive discussions and server events - not the most talked about forum threads.
Let's begin!
Server Events
Get to know the community on your server by participating in player-created events. Below are some occurring this week! Be sure to take a look at the Server Forums to find other events happening on your individual server.
SWTOR Subreddit
Forum Round-Up
My character the movie poster: Uluain nominated this thread where the talented Ixum has used their photoshop skills to create some awesome SWTOR inspired movie posters.
Elizak: "That's awesome!! Well done."
Wainot-keel: "Holy crap ! Awesome work"
What's Garza actually done herself?: A great discussion about General Garza from the Trooper Class Story.
HellbirdIV: "Basically, she's more bada** than the whole of Havoc Squad (both the pre- and post-Trooper squads) which is why you need to shut up and follow her orders."
Uluian: "Garza used forged identity records in order to enter the military at age 15 at the beginning of the Great War, fought in several campaigns and earned multiple promotions, eventually becoming a lieutenant with command of an entire platoon and it was with this that she really began to make a name for herself."
malgus vs. malak: Who of these Sith Lords reign supreme?
AshlaBoga: "Summary: Malgus wins! But Malak wins if it's on the Star Forge."
SentinelDranoel: "My final analysis: Draw"
Companion Fights - Go!: AshlaBoga asks the community who would win "in terms of gameplay, not lore" – Kira Carsen vs. Nadia Grell and Jaesa Willsam vs. Ashara Zavros. Some of your answers included:
_biddan_: "1:nadia 2:jaesa"
FireFoxed: "All 8 melee dps companions have the same 2 modes (exsanguination and perforation) and the same 8 abilities (a +crit buff, an aoe slow, a +parry buff, an aoe attack, a charge, a standard attack, and a dot) just with different names and slightly different numbers, except Akaavi whos aoe slow also does damage so her other attacks have slightly reduced numbers and Torian who shares the same abilities as Akaavi and so is basically screwed in the dps department ... So Kira vs Nadia vs Jaesa, they all wear light armor and it'd come down to lucky crits/misses. Ashara had a huge advantage before the 30% armor buff to ladies, but still has a slight advantage because of her medium armor. Overall it'd go Yuun/Akaavi > Ashara => Kira/Nadia/Jaesa > Torian => Vector imo."
Thank you for all of the fun and interesting discussions this week! There are many other great conversations happening in the forums that are not on this list so be sure to look around. Please don't forget to nominate your favorite threads and events for next week's Round-Up by posting here!