Community News
02.14.2013
Community Round-Up: February 14th, 2013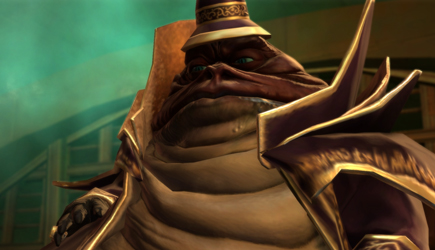 Happy Valentine's Day and welcome to this week's Community Round-Up. Each week, we scour the forums, fan sites, and reddit, finding some of the most interesting discussions in the community as well as player-created events happening on certain servers in The Old Republic™.
If you have nominations for next week's Round-Up, please post them in this thread. Please remember the Community Round-Up blog is meant to highlight interesting, productive discussions and server events - not the most talked about forum threads.
Let's begin!
Server Events
Get to know the community on your server by participating in player-created events. Below are some occurring this week! Be sure to take a look at the Server Forums to find other events happening on your individual server.
SWTOR Subreddit
Fan Site Spotlight
TORWars TV: TORWars has started a new web series about all the latest news in The Old Republic. Asros has posted the first three episodes in this thread.
Forum Round-Up
The Scrapper's Handbook: A PvP Guide: ktkenshinx has put together this extensive pvp guide for scrappers.
AngelofCain: "love it. well done. extremely detailed to the smallest degree. A nod to all of the tactics mentioned. There is one rotation not mentioned that is a 12-15k bomb if all the conditions are met. Well 12-15k bomb in 3gcd's, and you are geared enough. But that's super advanced and situational only, and not recommended as you pretty much blow everything."
Forsaked: "I love your guide, it helps me alot after beeing away since pre 1.2."
Happy Valentine's Day From The Gree Enclave!: A traditional Gree poem from Basil_Evenstar for Valentine's day.
Basil_Evenstar: "Radiants are red, Scalenes are blue, Grey Secant engages interests in your actions!"
Rafaman: "Perpendicular is good. Try Green Obtuse. Grey Helix makes a Perfect Bisector too."
~ * ~ Vanity Pets Guide ~ * ~: Jenemi has updated her pets guide to include the new pets from Game Update 1.7.
I starred in Star Wars....twice!: PhantomAxe showing off their "cameos."
Lyynk: "lol, the podracer one is awesome"
Orlesian: "Haha, nicely done"
Darth Thanaton VS Satele Shan: Fight!
Tahrl: "Thanaton would get his skinny white arse handed to him."
Thank you for all of the fun and interesting discussions this week! There are many other great conversations happening in the forums that are not on this list so be sure to look around. Please don't forget to nominate your favorite threads and events for next week's Round-Up by posting here!