News Articles
06.17.2011
STAR WARS: The Old Republic Fan Friday
Each and every month, Fan Friday highlights just a few of the many creative and talented members of the Star Wars™: The Old Republic™ community. This month we highlight some awesome works of art from you, the fans!
The Fan Site Spotlight this month highlights Ask a Jedi, an incredible online resource for news relating to The Old Republic that is run by some truly dedicated fans.
In addition, we've created a new set of forum icons for you to use on our message boards. This latest batch of icons highlights the emblems used by many of the iconic factions in the Star Wars™ universe.
Community Creations
For thirty-plus years Star Wars has inspired countless fan creations from across the world, and our community has played a role by contributing some incredible work of their own.
Don't hesitate to share your own creations with us and other community members on the community forums!
Fan Art
Community member Micah_Vale created this intricately detailed sketch of "Coara Naandi," one of many characters that are part of her pre-launch guild. Check out the "Portraits by Micah Vale" thread on the forums to see some of her other work.
In "CuriousOne's Artwork," longtime community member CuriousOne shows us a number of his impressive artworks, including this menacing Sith Pureblood who is poised for battle.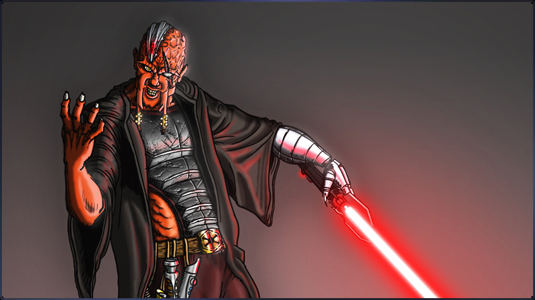 Longtime community member skinryder shows us his depiction of a Sith Sorcerer who is channeling the dark side of the Force to summon powerful bolts of lightning from her fingertips. Check out some of his other work in the "SkinRuder77's FanArt Thread" on the forums!
Fan Site Spotlight
This month's Fan Site Spotlight focuses on one of the premier news sources for Star Wars: The Old Republic. Ask A Jedi is always on the ball with their up to the minute coverage of The Old Republic, so we reached out to them to find out exactly what goes behind-the-scenes at their site.
How Did Ask A Jedi (AAJ) first start out?
Well it all began back in 1977. I just didn't know at the time what that moment (watching Episode IV in its first-run theater release) was preparing me for!
Being a first-gen fan, I've had a lifelong affinity for all things Star Wars, and I've had a passion for the MMORPG genre since its inception - and even before that, with text-based MUDs. Also, in my day job I manage teams that design, build and maintain web sites, communities and services, so I was very familiar with everything involved in getting "Ask a Jedi" up and running.
When Star Wars: The Old Republic was officially announced in October of 2008, it seemed like the perfect way to combine those things into one tasty morsel of Star Wars gaming goodness. I decided on "Ask A Jedi" as a name since the Jedi are known as keepers and guardians of all knowledge in the galaxy... and that's exactly I wanted the site to be: the de-facto, go-to news resource for all things related to Star Wars: The Old Republic!
How has AAJ evolved over the years?
We launched last year, during E3 2010. In fact, on June 11th we celebrated our one-year anniversary! From that very first day, we've been providing news and interviews from every event we can possibly attend, and we plan to continue and expand on that. Currently, we're busy ramping up for the launch of the game by adding writers and contributors to the AAJ staff, so we'll be able to provide a wide array of specialized content instead of just news. Finally, we're well underway on a total site re-design that will also expand the community for our readers!
What's your favorite aspect of the The Old Republic community so far?
I think the best part is having been involved from the very beginning and seeing it evolve! I joined the community on October 21, 2008 as forum member #118, and was an active participant on a daily basis - I still am, in fact! I've met a lot of people and made a lot of friends on the community site, and have had the opportunity to extend those friendships in real life as well. To me, that's one thing that sets a good MMO community apart - the bond that everyone is in it together for the long haul!
What's the most important thing to know about running a fan site?
Good question, I'm not sure I've discovered it yet! But seriously, like anything in life, if you have a passion for what you're working on, it never seems like work. So even though it has been without a doubt much more of a time commitment than I anticipated, I'm never watching the clock and time always flies. As the game launches, there are going to be many more opportunities for various and more specialized fan sites, so if you have a passion for the subject matter, just go for it!
Last month, you had the opportunity to visit BioWare Austin as part of the Fan Site Summit. What was the most memorable part of the trip?
Well, I'm very much an armchair game designer so getting to interact with the developers and seeing the environment they work in was the real highlight for me; getting that "peek behind the curtain," as it were (Note: I didn't see anything behind that curtain that I wasn't supposed to!). Meeting so many passionate, talented and not to mention super-smart people was very inspiring as well.
What are you most looking forward to in The Old Republic?
Since my Bartle Test score is skewed really heavily toward exploration, I'd have to say it's getting a chance to immerse myself inside of a brand-new, fully-realized rendition of the Star Wars galaxy. Being able to explore both the familiar and unfamiliar planets and meet their inhabitants, as well as create an existence for my character in that world, is what I'm most looking forward to.
Concept Art
Holo-video and images from Corellia show widespread destruction in Coronet city, and though an act of terrorism has not been ruled out, some fear the situation may be more serious. Visit the Concept Art section to download this image at full resolution.
Forum Icons

From the domineering Sith Empire to the righteous Rebel Alliance, there have been a number of factions who have made their presence felt throughout the Star Wars universe. Now you can show your allegiance on the forums with the symbols of these iconic factions. To use these icons, click "More" in the Smilies section on the right-side of your screen when creating a new post. From there, click the appropriate icon to insert it into your post.
Polls
We want to know! You can find these polls in the Surveys and Polls section of the website.
---