Community News
06.18.2012
Weekly Patch Notes Update: June 18th, 2012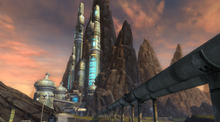 This week saw the deployment of patch 1.2.7. Some highlights from the patches include:
Class mission (Smuggler) - Blood Feud: Players can now return to Port Nowhere even if they travelled to another area during the step "Speak to Darmas Pollaran." Players previously blocked on this mission need to reset the mission in order to complete it.
Voidstar: In the event that an attacking player bypasses a door while it is not destroyed, the attacking player's team will no longer advance to the next respawn location.
Ships no longer have the potential to spawn in incorrect locations during Space Combat Missions.
As our Game Director, James Ohlen, mentioned in this blog post, fixing issues is our priority and we will be making regular fixes on a consistent basis and emergency fixes as needed.
For the full list of patch notes, please visit the Patch Notes section of the website.