Community News
12.23.2011
'No active subscription' error
Some of you have seen a 'no active subscription' error on your account while attempting to login to play today. As mentioned yesterday, as of 6AM CST this morning and the completion of our maintenance period, in order to continue playing Star Wars™: The Old Republic™ you will need to have completed the following steps:
1) Create an account on SWTOR.com (if you have not already done so)
2) Within the 'My Account' section:
Complete your contact information
Add between three and five security questions on your account
Redeem an official Game Product Registration Code (not a pre-order code; see below)
Sign up for a subscription or enter a Pre-Paid Game Time Code
Optional: register a Physical or Mobile Security Key to your account
If you have issues completing any of these steps, please contact Customer Service via support@swtor.com for assistance.
When you have completed all of these steps you will be 'ready to play' and your account page will reflect that - see our screenshot, which shows an account with all steps completed.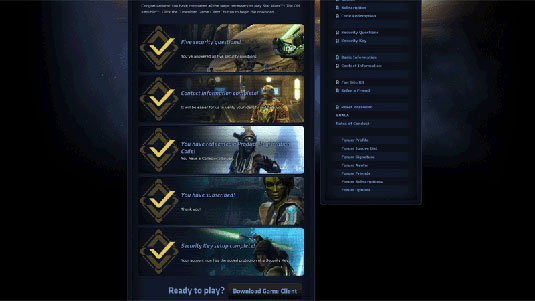 We appreciate that Star Wars: The Old Republic may be your first experience with a subscription based MMO. Adding a valid payment method to continue to play is standard practice for subscription based MMOs, and this requirement is mentioned on our retail packaging, as well as in our official FAQs. We apologize if you were surprised by the requirement, and for any interruption to your gameplay.
Valid payment methods vary by country, but include major credit cards plus Paypal and bank transfer (in some countries). A full list of available payment methods is in our FAQ. You are also able to pay with a pre-paid Game Time Card, available in major retailers, and also digitally via Origin.com.
Regardless of which payment method you choose, you will not be charged for a continuing subscription before your free game time has expired. If you have any questions about the process, please read the FAQ.
We understand some people have seen what appear to be charges on their debit cards or via their bank since they entered their payment method. Please be assured these are not 'advance charges' but are in fact temporary authorization charges, which is standard practice for many banks. These charges will be refunded to you, usually within a few days. However, you should ensure you have sufficient funds for these charges to allow you to continue playing.
Thanks for your understanding and patience!
---