Community News
12.06.2012
Community Round-Up: December 6th, 2012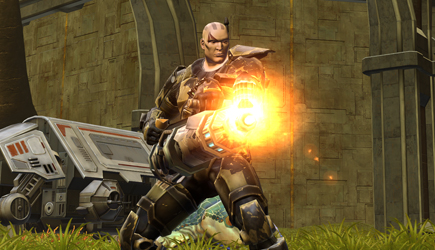 Welcome!
It's time for the Community Round-Up. Each week, we scour the forums, fan sites, and reddit, finding some of the most interesting discussions in the community as well as player-created events happening on certain servers in The Old Republic™.
If you have nominations for next week's Round-Up, please post them in this thread. Please remember the Community Round-Up blog is meant to highlight interesting, productive discussions and server events - not the most talked about forum threads.
Let's begin!
Server Events
Get to know the community on your server by participating in player-created events. Below are some occurring this week! Be sure to take a look at the Server Forums to find other events happening on your individual server.
SWTOR Subreddit
Forum Round-Up
Millenium falcon gingerbread: Origin Poster alawrence posted this amazing Millennium Falcon out of gingerbread to raise money for Habitat for Humanity.
Vandicus: "That's pretty darn awesome."
Orlesian: "Looks really great!"
Playable and Companion species suggestion thread: Vitas has continued to update this suggestion thread for new species in The Old Republic.
TheHunterC: "Kaleesh"
Flintfire: "Duros and Rodian would be kick butt bounty hunters."
Cel Cawdro's Ultimate "Community Desire for Species" Poll: CelCawdro also has been updating their poll for new species.
Norke: "1. Kel Dor 2. Rodian 3. Voss"
Duduneco: "1. Trandoshan 2. Togruta 3. Mon Calamari"
Most Epic story parts (SPOILERS): TrumpetNut asks the community what parts of their class story did they feel was the most "epic." Some of your answers included:
Darkondo: "Imperial Agent story on Tatooine: an elite member of ghost cell disguises as your contact and starts coming on to you and the agent sees right through it saying to her "Never lie to a professional liar" and then blasts her."
Jandi: "JK one: Kira asks: 'wow, do you ever leave survivors?' which you can reply with 'It gets boring fighting the same enemy twice' Which Kira then replies with: 'Yeeah.... I don't think that's in the Jedi code'"
Thank you for all of the fun and interesting discussions this week! There are many other great conversations happening in the forums that are not on this list so be sure to look around. Please don't forget to nominate your favorite threads and events for next week's Round-Up by posting here!