Community News
04.18.2013
Community Round-Up: April 18th, 2013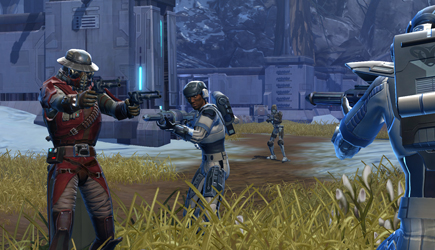 It's time for this week's Community Round-Up. Each week, we scour the forums, fan sites, and reddit, finding some of the most interesting discussions in the community as well as player-created events happening on servers in The Old Republic™.
If you have nominations for next week's Round-Up, please post them in this thread.
Let's get started!
Server Events
Get to know the community on your server by participating in player-created events. Below are some occurring this week! Be sure to take a look at the Server Forums to find other events happening on your individual server.
Begeren Colony
Jung Ma
The Ebon Hawk
The Harbinger
SWTOR Subreddit
Forum Round-Up
lol bolster: An on-going discussion about Bolster since Game Update 2.0.
An update on the One-Time-Password system (April 16th 2013): Head of Security, Phillip Holmes, gives an update on some of the topics concerning the new One Time Password system.
We posted the first six of eight Class Changes blogs by Senior Designer, Austin Peckenpaugh. Jedi Consular and Sith Inquisitor will be posted tomorrow!
Gearing up at L55 - a guide: Dulfy posted a great guide on how to gear your character at level 55.
Thank you for all of the fun and interesting discussions this week! There are many other great conversations happening in the forums that are not on this list so be sure to look around. Please don't forget to nominate your favorite threads and events for next week's Round-Up by posting here!