News Articles
04.27.2016
Celebrate May the 4th with a new Astromech Droid, a Speedrun Through the Eternal Championship, Double XP, and more!
As a thank you to our players and in celebration of Star Wars™ Day, we are rewarding players for their epic loyalty with the M4-I6 Astromech Droid Mini-Pet!* Inspired by the extravagant culture of Zakuul, this devoted Droid will tag along no matter where your galactic adventures take you.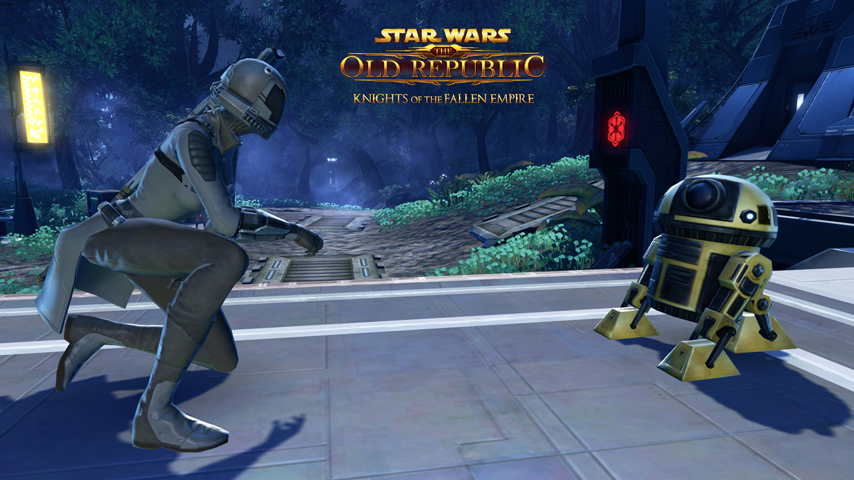 Log in by May 4 to claim your Astromech Droid, and get rewarded via in-game mail on May 5!
Plus, catch up quick with two Double XP weekends – The first running May 3rd through May 10th, the second Double XP Weekend from May 27th through May 30th. Earn double the Story and Legacy Experience, as well as double the PvP Commendations and Starfighter Requisitions!
On top of that, we're celebrating May the 4th and the latest Knights of the Fallen Empire expansion with an action-packed schedule of events and promotions running throughout May!
Story So Far Promotion: Play through the upcoming Chapter, 'Profit and Plunder', for your chance to receive collectible Zakuul-themed rewards. Five randomly-selected winners will be awarded with the Zakuul Knight Armor Set and Zakuul Dropship every five days, starting May 10th!
Eternal Championship Solo Speedrun: Fight your way through the new Eternal Championship challenge in the fastest time possible between May 3 – May 17. You could win a Grand Prize Trip for you and a guest to join our team in July at Star Wars™ Celebration Europe!
Show and Tell Your Saga: Share your videos and screenshots on Twitter using the hashtag #SWTORSagaSweepstakes, and we'll send five randomly-selected winners Cartel Coin rewards every five days, starting May 10th!
Knights of the Fallen Empire Free** Trial: Be a part of the epic Knights of the Fallen Empire storyline and help turn the tide of the battle on the Eternal Empire – Subscribe to binge all of the episodic story so far! Activate your Free Trial by May 30 to gain a free Level 60 Character and instant access to Chapter 1: The Hunt!
Get ready to celebrate May the 4th, and – as always -- May the Force™ Be with You!
Find out more about all the May the 4th activities: www.swtor.com/may-the-fourth
Play now: Visit www.swtor.com/fallen-empire
PLAY FREE NOW: www.swtor.com/play-free
Stay connected through our Community Blog, Facebook, Twitter, YouTube and Twitch!
---
*TO QUALIFY FOR THE M4-I6 ZAKUULAN ASTROMECH DROID, YOU HAVE TO HAVE LOGGED IN TO YOUR SWTOR ACCOUNT BETWEEN APRIL 27, 2016 AT 12:01AM PDT // 7:01AM GMT AND MAY 4, 2016 AT 11:59PM PDT // MAY 5, 2016 AT 6:59AM GMT. THE M4-16 ZAKUULAN ASTROMECH DROID WILL BE DELIVERED TO YOU VIA IN-GAME MAIL WITHIN 24 HOURS AFTER THE PROMOTIONAL PERIOD ENDS.
** ACCEPTANCE OF END USER ACCESS AND LICENSE AGREEMENT ('EUALA'), PERSISTENT INTERNET CONNECTION, AND ACCOUNT REGISTRATION REQUIRED TO PLAY. MUST BE 13+ TO REGISTER. ACCOUNT IS NON-TRANSFERABLE ONCE USED. PAID SUBSCRIPTION, VALID AND ACCEPTED PAYMENT METHOD OR PAID GAME TIME CARD (IF AVAILABLE) REQUIRED TO ACCESS SUBSCRIPTION GAMEPLAY. PAYMENT METHOD AGE RESTRICTIONS MAY APPLY. SWTOR ONLINE SERVICE MAY BE DISCONTINUED. SEE EUALA FOR DETAILS. AGREEMENT TO SHARE ACCOUNT INFORMATION WITH LUCASFILM ENTERTAINMENT COMPANY LTD. ('LUCASFILM') IS REQUIRED TO ACCESS GAMEPLAY. GAME INTENDED FOR PLAY ONLY WITHIN NORTH AMERICA, EUROPE AND CERTAIN OTHER TERRITORIES. USE OF CARTEL COINS SUBJECT TO DIGITAL SERVICES AGREEMENT. PRIVACY POLICY AND TERMS OF SERVICE AVAILABLE AT
WWW.SWTOR.COM
. ALL TERMS AND CONDITIONS TO PLAY THE GAME APPLY AT ALL TIMES. SUBSCRIPTIONS MAY BE CANCELLED AT ANY TIME. SEE
WWW.SWTOR.COM
FOR DETAILS.