News Articles
04.28.2014
Celebrate May the Fourth with a new Astromech Droid™ and Double XP!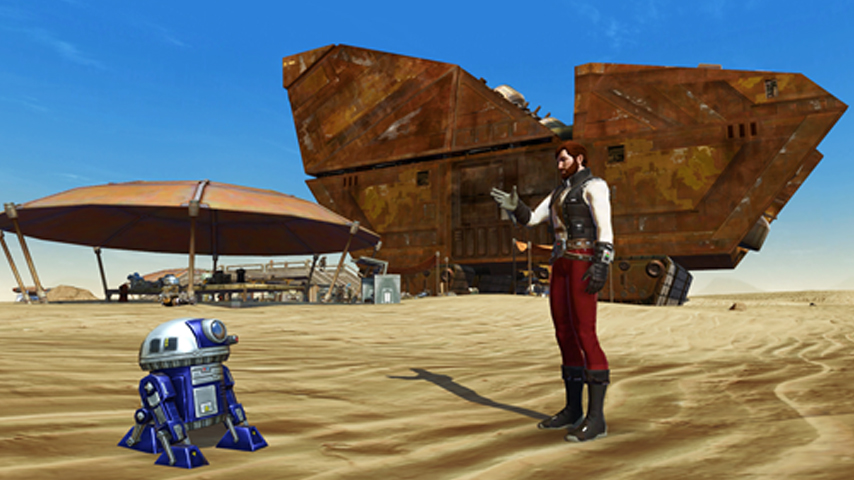 We're excited to announce that in honor of Star Wars™ Day and as a thank you to you, our players, we're giving away the new MT-4T Astromech Droid™ Mini-Pet to the entire Star Wars™: The Old Republic™ community!* Your adventurous Astromech Droid is ready to courageously follow you as you join with friends to fight for the light or dark side of the Force™!
Already a player? Starting Tuesday, April 29th, log in to claim your new mini-pet.
Or, join the battle at www.swtor.com/play-free by May 4, 2014 at 11:59PM PDT / May 5, 2014 at 6:59AM GMT to get yours.
Also, don't forget to jump into our "May the Fourth" Double XP Weekend!
STARTS: Friday, May 2 2014, 11AM PDT / 6PM GMT
ENDS: Monday, May 5, 2014, 12AM PDT / 7AM GMT
For more details, visit www.swtor.com/may-the-fourth.
Thanks for your support and May the Fourth be with you!
Stay connected through our Community Blog, Facebook, Twitter, YouTube, and Twitch!
---
* To qualify for the MT-4T Astromech Droid in-game mini-pet, you must have a SWTOR account by May 4, 2014 @ 11:59PM PDT / May 5, 2014 @ 6:59AM GMT. The MT-4T Astromech Droid will be delivered to you via in-game mail beginning April 29, 2014, or within 24 hours of creating a SWTOR account.