News Articles
07.10.2012
Announcing the STAR WARS: The Old Republic Free Trial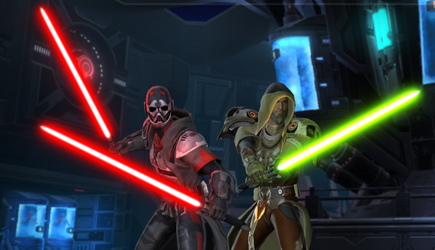 Today we are excited to announce the Star Wars™: The Old Republic™ Free Trial*. Now you will be able to live out your very own Star Wars™ saga with thousands of other players up to level 15 with no charge or time limit! The Star Wars: The Old Republic Free Trial allows individuals, without a previously active Star Wars: The Old Republic game account, to see a portion of what the game has to offer with no payment method required.
Free Trial participants will experience the opening adventures of each of the eight character classes in the game. Players will explore their classes' Origin World, and may even have the opportunity to visit their faction's Capital World! Additionally, Free Trial players will have the chance to face off against other players in Player-vs.-Player Warzones, or join up with friends and play through a Flashpoint.
Players who have previously participated in one of the Weekend Pass Free Trials or the Friends of Star Wars: The Old Republic Trial are also eligible to join this new free trial!
Visit www.StarWarsTheOldRepublic.com/trial to create your account, download the game, and begin your free trial experience! Have questions? Visit the Free Trial FAQ for more details.
Be sure to check back to www.StarWarsTheOldRepublic.com, as well as our Facebook and Twitter for all the latest updates!
* TRIAL PERIOD EXPIRES UPON REDEMPTION OF PRODUCT REGISTRATION CODE, PURCHASE OF PRODUCT SUBSCRIPTION OR REDEMPTION OF A GAME TIME CARD CODE. VALID ONLY IN TERRITORIES WHERE STAR WARS™: THE OLD REPUBLIC™ IS DISTRIBUTED. SEE WWW.SWTOR.COM/INFO/FAQ/GAME#Q209655. FOR GAMEPLAY RESTRICTIONS, SEE FAQ . OFFER MAY NOT BE SUBSTITUTED, EXCHANGED, SOLD OR REDEEMED FOR CASH OR OTHER GOODS OR SERVICES. CANNOT BE COMBINED WITH ANY OTHER OFFER, GIFT CARD, REBATE OR OTHER DISCOUNT COUPONS. LIMIT ONE OFFER PER ACCOUNT. RETAILERS, DISTRIBUTORS AND EMPLOYEES OF ELECTRONIC ARTS INC. AND THEIR AGENCIES/AFFILIATES ARE NOT ELIGIBLE.
ACCEPTANCE OF END USER ACCESS AND LICENSE AGREEMENT ("EUALA"), PERSISTENT INTERNET CONNECTION, AND ACCOUNT REGISTRATION REQUIRED TO PLAY. MUST BE 13+ TO REGISTER. SWTOR ONLINE SERVICE MAY BE DISCONTINUED AFTER 30 DAYS NOTICE POSTED ON WWW.SWTOR.COM. SEE EUALA FOR DETAILS. AGREEMENT TO SHARE ACCOUNT INFORMATION WITH LUCASFILM ENTERTAINMENT COMPANY LTD. ("LUCASFILM") IS REQUIRED TO ACCESS GAMEPLAY. GAME INTENDED FOR PLAY IN NORTH AMERICA, EUROPE, AND CERTAIN OTHER TERRITORIES. SEE WWW.SWTOR.COM/INFO/FAQ/GAME#Q209655. PRIVACY POLICY AND TERMS OF SERVICE AVAILABLE AT WWW.SWTOR.COM. TERMS AND CONDITIONS TO PLAY THE GAME APPLY AT ALL TIMES.