News Articles
05.15.2012
Join us for the next Weekend Pass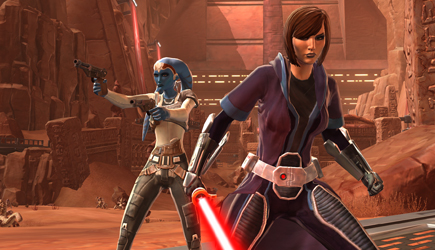 BioWare and LucasArts are happy to announce that this weekend will be another Weekend Pass Free Trial, giving people interested in Star Wars™: The Old Republic™ the chance to take the first steps in their personal Star Wars™ saga for free*! This Weekend Pass Free Trial will begin on Thursday, May 17th at 12:01AM CDT / 5:01AM GMT, and end on Monday, May 21st at 2:00AM CDT / 7:00AM GMT.
People who haven't taken part in any previous trials for The Old Republic will be able to take part in this Weekend Pass. Individuals can download the game as soon as the Weekend Pass begins, and players will be able to register their accounts to play until 2:00AM CDT / 7:00AM GDT on Sunday, May 20th.
Just like our prior Weekend Pass Free Trials:
No credit card is required to take part in the Weekend Pass Free Trial.
You can play for up to four full days free.
Characters you create during the trial will be saved to your account, so allowing you to continue on your journeys once you've purchased the game and redeemed the Game Product Registration Code at the Code Redemption Center.
You'll be able to experience the first fifteen (15) levels of the game, allowing you to explore the Origin Worlds for each character class, as well as possibly seeing your faction's Capital World.
You will also be able to join other players take part in Player-vs-Player Warzones, or group with friends to take on one of the numerous Flashpoints in the game.
To learn more about the Weekend Pass Free Trial, visit www.StarWarsTheOldRepublic.com/weekendpass, as well as the Weekend Pass Free Trial FAQ.
Be sure to return to www.StarWarsTheOldRepublic.com for all the latest news and updates on the game, and join our community on Facebook and Twitter.
*TRIAL VALID ONLY FROM MAY 17, 2012 12:01AM CDT/ 5:01AM GMT / 4:01PM EDT THROUGH MAY 21, 2012 AT 2:00AM CDT/ 7:00AM GMT / 6:00 PM EDT. ONLY VALID FOR NEW STAR WARS™: THE OLD REPUBLIC™ ("PRODUCT") ACCOUNTS NOT ENROLLED IN A PROMOTIONAL TRIAL FOR PRODUCT. UNUSED TRIAL TIME IS FORFEITED UPON REDEMPTION OF PRODUCT REGISTRATION CODE, PURCHASE OF PRODUCT SUBSCRIPTION, OR REDEMPTION OF A GAME TIME CARD CODE. VALID ONLY IN TERRITORIES WHERE STAR WARS™: THE OLD REPUBLIC™ IS DISTRIBUTED. OFFER MAY NOT BE SUBSTITUTED, EXCHANGED, SOLD OR REDEEMED FOR CASH OR OTHER GOODS OR SERVICES. CANNOT BE COMBINED WITH ANY OTHER OFFER, GIFT CARD, REBATE OR OTHER DISCOUNT. LIMIT ONE OFFER PER ACCOUNT HOLDER.
ACCEPTANCE OF END USER ACCESS AND LICENSE AGREEMENT ("EUALA"), PERSISTENT INTERNET CONNECTION, AND ACCOUNT REGISTRATION REQUIRED TO PLAY. MUST BE 13+ TO REGISTER. AGREEMENT TO SHARE ACCOUNT INFORMATION WITH LUCASFILM ENTERTAINMENT COMPANY LTD. IS REQUIRED TO ACCESS GAMEPLAY. SEE EUALA FOR DETAILS. PRIVACY POLICY AND TERMS OF SERVICE AVAILABLE AT WWW.SWTOR.COM. ALLTERMS AND CONDITIONS TO PLAY THE GAME APPLY AT ALL TIMES.