News
05.25.2012
Sign up to playtest Game Update 1.3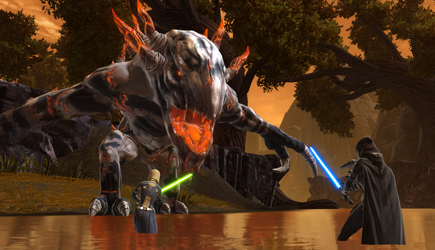 Game Update 1.3 is almost ready for deployment onto the Public Test Server. We still need to finalize a few things, but we wanted to let you know that the Public Test Server will be coming down soon so that we can prep Game Update 1.3 for PTS deployment. You can expect the Public Test Server to come back up with Game Update 1.3 in the next few weeks.
Game Update 1.3 is focused around the new Group Finder function, which will help you find other players to group up with for Flashpoints and Operations easily. In addition, the Legacy System has been updated with purchasable character perks. Leveling a new Legacy character can now be customized to your preferred play style.
Our Character Copy tool is still in testing, so we are again using a manual process to copy characters from our Live servers to our Public Test Server. We have streamlined this process to ensure we can get as many players as possible copied to the PTS if they choose to help test our new systems.
If you would like to help us out in testing Game Update 1.3, please visit the following link and follow the directions within:
https://www.surveymonkey.com/s/PTSCopySWTOR
We cannot guarantee that every character will copy to the PTS successfully, however we can assure you that characters on Live servers will not be affected in any way should the tool fail.
Please do not contact Customer Support with questions regarding PTS Character Copies, as they will be unable to assist you at this time.
Thanks in advance!
---
Inscrivez-vous pour tester la mise à jour 1.3
La mise à jour 1.3 est pratiquement prête à être installée sur le serveur public de test. Nous devons toujours finaliser quelques détails, mais nous voulions vous annoncer que le serveur public de test sera bientôt mis hors ligne pour que nous puissions préparer la mise à jour 1.3 pour son déploiement sur le serveur public de test. Le serveur public de test devrait revenir en ligne avec la mise à jour 1.3 dans les toutes prochaines semaines.
Dans la mise à jour 1.3, l'accent est mis sur le nouvel outil de recherche de groupe. Celui-ci vous aidera à trouver d'autres joueurs avec lesquels former un groupe pour participer à des zones litigieuses ou à des opérations facilement. De plus, le système d'Héritage a été mis à jour et il est désormais possible d'acheter des améliorations de personnages. Vous pourrez donc personnaliser le style de jeu des nouveaux personnages de votre Héritage.
Notre outil de copie de personnages est toujours en phase de test ; nous réaliserons donc de nouveau les copies de personnages depuis les serveurs de jeu vers le serveur public de test manuellement. Nous avons standardisé ce processus afin de nous assurer de pouvoir copier autant de personnages que possible pour les joueurs qui décident de nous aider à tester nos nouveaux systèmes.
Si vous souhaitez nous aider à tester la mise à jour 1.3, veuillez consulter le lien suivant et suivre les indications qui s'y trouvent :
https://www.surveymonkey.com/s/PTSCopySWTOR
Nous ne pouvons garantir que chaque personnage sera copié sur le serveur public de test. Cependant, nous pouvons vous assurer que les personnages sur les serveurs de jeu ne seront aucunement affectés si jamais l'outil de copie ne fonctionnait pas.
Merci de ne pas contacter le Service clients si vous avez des questions concernant les copies de personnages vers le serveur public de test, étant donné que celui-ci ne sera pas en mesure de vous aider.
Enfin, nous vous serions reconnaissants d'envoyer vos retours et vos rapports de bugs en anglais si possible, afin que les développeurs puissent lire vos commentaires directement.
D'avance merci !
---
Meldet euch für den Test zu Spiel-Update 1.3 an
Es ist fast soweit, dass Spiel-Update 1.3 auf den Testserver aufgespielt werden kann. Wir müssen noch einige Dinge finalisieren, aber wir wollten euch schon einmal Bescheid geben, dass der Testserver bald heruntergefahren wird, damit wir das Aufsspielen von Spiel-Update 1.3 vorbereiten können. In den nächsten Wochen wird der Testserver dann mit allen Inhalten von Spiel-Update 1.3 wieder hochgefahren.
Der Schwerpunkt von Spiel-Update 1.3 ist die Gruppenfinder-Funktion, die euch helfen wird, andere Spieler für Flashpoints und Operationen zu finden. Weiterhin wird das Vermächtnissystem um erwerbbare Charakter-Vorteile erweitert. Das Hochspielen eines neuen Charakters kann damit jetzt an den persönlichen Spielstil angepasst werden.
Unsere automatische Charakter-Kopierfunktion wird noch getestet. Daher werden wir wiederum die Charaktere manuell von den Live- auf die Testserver transferieren. Wir haben diesen Prozess optimiert, um sicherzustellen, dass wir so viele Charaktere wie möglich auf die Testserver kopieren können.
Wenn ihr uns beim Testen von Spiel-Update 1.3 helfen wollt, folgt bitte untenstehendem Link und führt die dort beschriebenen Schritte aus:
https://www.surveymonkey.com/s/PTSCopySWTOR
Wir können nicht garantieren, dass jeder Charakter erfolgreich auf den Testserver kopiert wird. Wir können allerdings versichern, dass die Charaktere auf den Liveservern nicht betroffen sein werden, sollte der Transfer nicht erfolgreich sein.
Bitte wendet euch nicht an den Kundendienst mit Fragen bezüglich der Charakter-Kopien auf den Testserver, da der in diesem Falle nicht behilflich sein kann.
Wir möchten euch außerdem bitten, Feedback und Bugmeldungen in Englisch zu verfassen, damit die Entwickler eure Rückmeldungen direkt lesen können.
Vielen Dank im Voraus!