Community News
06.06.2013
Community Round-Up: June 6th, 2013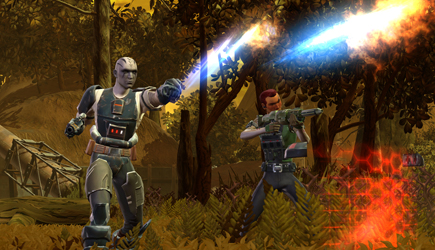 Welcome to this week's Community Round-Up. Each week, we scour the forums, fan sites, and reddit, finding some of the most interesting discussions in the community as well as player-created events happening on servers in The Old Republic™.
If you have nominations for next week's Round-Up, please post them in this thread.
Let's begin!
Server Events
Get to know the community on your server by participating in player-created events. Below are some occurring this week! Be sure to take a look at the Server Forums to find other events happening on your individual server.
Begeren Colony
Jedi Covenant
Jung Ma
Prophecy of the Five
The Bastion
The Ebon Hawk
The Harbinger
SWTOR Subreddit
Forum Round-Up
Cross Server Queues: Senior Producer, Bruce Maclean, confirms that Cross-Serving Queuing will not be in Game Update 2.4.
Server Transfers, 11 Months Later...: Community Manager, Eric Musco, shares details about paid character transfers coming in Game Update 2.2.
Shipment 1 packs lost forever?: Musco confirmed that Shipment 1 will be leaving the Cartel Market for June 11th, but could return at some point in the future.
Consolidated Post: APAC/Oceanic Server Concerns: Free character transfer are now open for APAC players.
Stunbreakers reseting after death: Senior Designer, Rob Hinkle, tells players that we have decided to not reset stunbreakers after death based on player feedback.  
Favourite republic storyline?: Players discuss their favorite Republic Class stories.
The Companion Dialogue Location Index: iamthehoyden has continued to compile a list of Companion dialogue triggered at certain locations around the galaxy.
PC Voice Actors, Male VS Female: Players discuss which voice actors they prefer for each of the Classes.
Thank you for all of the fun and interesting discussions this week! There are many other great conversations happening in the forums that are not on this list so be sure to look around. Please don't forget to nominate your favorite threads and events for next week's Round-Up by posting here!