Community News
07.05.2012
Community Round-Up: Events and Forums July 5th, 2012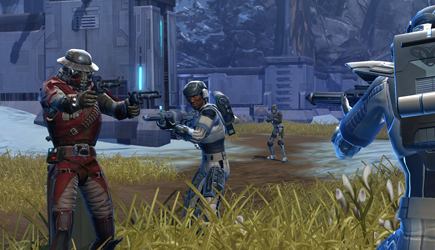 Hello everyone!
Welcome to this week's Community Round-Up. Every week, we highlight some of the most interesting discussions in the community as well as player-created events happening on certain servers in The Old Republic™. While most of these discussions occur on our forums, we also try to look at what people are saying about Star Wars™: The Old Republic™ on other sites whenever we can.
If you have suggestions for next week's Round-Up, please nominate them in this thread.
Let's begin!
Server Events
Get to know the community on your server by participating in player-created events. Below are some occurring this week! Be sure to check out the Server Forums to find other events happening on your server.
Forum Round-Up
Funny guild and character names!: DarthShredKing asks the community to share some of the most hilarious guild and characters names you have seen while playing The Old Republic. Some of your answers included:
Anzel: "<Crouching Tauntaun Hidden Wookiee>"
WDBroome: "On Fatman I've always liked Seal Team Sith and Peanut Butter Jedi Time guild names."
What legacy name did you choose? Proudly post yours here!: While we are on the subject of names/titles, ColdLogic created a thread dedicated to sharing your Legacy name and why you chose it.
KharonKleoni: "My legacy surname is Lettow, it's from The Legion of Lettow, the first group of dark Jedi. Well at least according to Master Gnost-Dural!"
DonRab: "Ransom. As a homage to one of my favorite sci-fi trilogies, and because I think it makes an awesome last name."
What Is Your Favorite Flashpoint?: Some of you discussed which flashpoint is your favorite and why:
NefNef: "Foundry because of the story. D7 because of the more interesting boss fights."
Crixaliss: "Colicoid - this was a great change from the standard tank-and-spank boss fights, I loved this and really hope they one day make a HM version of it."
Trooper Mottos: What motto best fits your Trooper?
ChaoticDynamite: "Looks like you called for the Republics Finest."
Kytea: "This assault cannon is mine. There are many like it, but this one is mine."
Theme songs for your toons?: Every hero needs a theme song! Here are some of the songs you have chosen for your characters:
Thank you for all of the fun and interesting discussions this week! There are many other great conversations happening in the forums that are not on this list so be sure to look around. Please don't forget to nominate your favorite threads and events for next week's Round-Up by posting here!