Press Releases
12.02.2016
Knights of the Eternal Throne: 'Taking Command' Trailer
Get a first look at the 'Taking Command' Trailer here.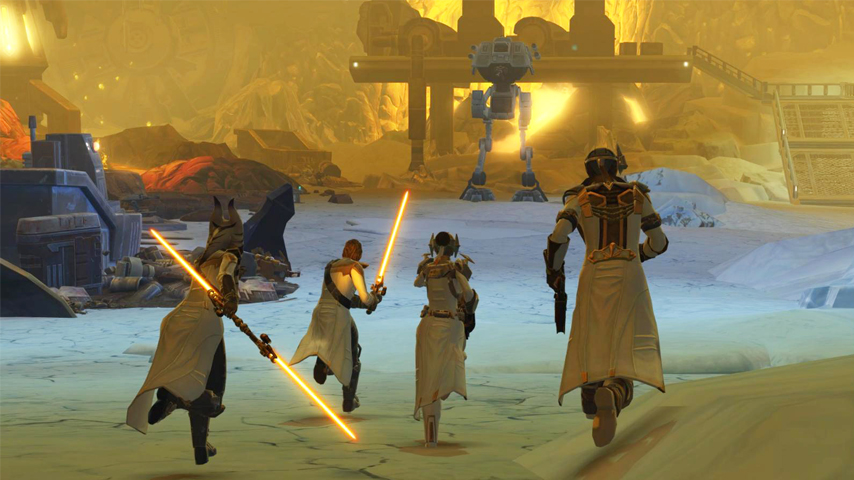 As you fight to the Eternal Throne, you'll experience a number of exciting and innovative new gameplay and combat features! With three combat modes to choose from, you can play your way at a pace and challenge level that fit your style. Pilot a Walker into battle, go undercover as a Zakuul Knight, and much more!
After conquering the throne, rule the galaxy with all-new Galactic Command gameplay, featuring an evolving multiplayer progression system and authentic Star Wars action! Grow your influence across the galaxy with Uprisings, where you'll join with three allies to fight fast-paced and explosive battles -- to solidify your rule and earn rare rewards. Plus, throughout your Knights of the Eternal Throne adventure you'll want to pick a side, as the dark and light side of the Force™ battle in an evolving and ongoing war. As one side takes control, battles and counter-battles will erupt across the galaxy – offering big group combat that brings players together like never before – to shift the balance of the Force to their side!
Knights of the Eternal Throne is now live and free to all Premium Players (Subscribers). Plus, new players can jump right into the story with a free Level 65 Character! Stay tuned for more details about the Expansion: www.StarWarsTheOldRepublic.com/Eternal-Throne
PLAY FREE NOW: www.swtor.com/play-free
Stay connected through our Community Blog, Facebook, Twitter, Instagram, YouTube and Twitch!