Press Releases
06.08.2016
BIOWARE ANNOUNCES NEW CHAPTER: THE GEMINI DECEPTION – COMING JUNE 30 TO STAR WARS™: THE OLD REPUBLIC™
Get a first look at The Gemini Deception Teaser Trailer here.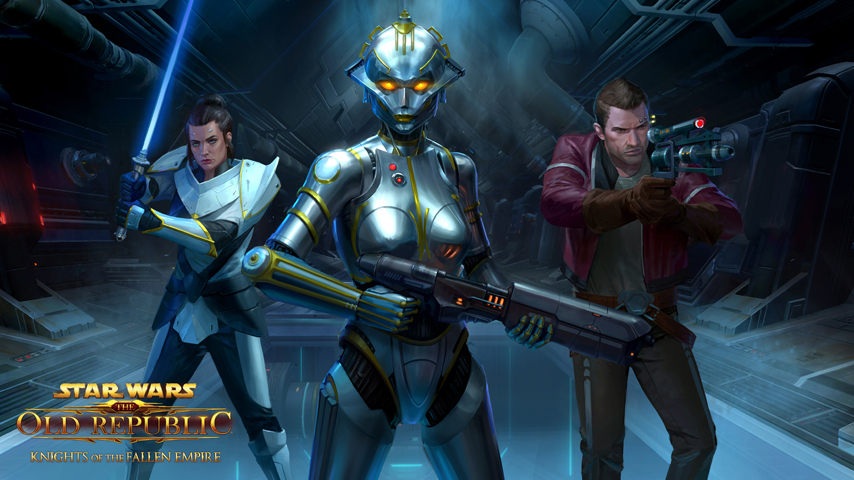 BioWare™ and Lucasfilm today announced details of the latest chapter in the episodic storyline of Star Wars™: The Old Republic™ – Knights of the Fallen Empire. The GEMINI Deception will be available for Early Access  on June 28* and to all Star Wars: The Old Republic players starting June 30.
In this new chapter, prepare to lead your Alliance in the ultimate assault to land a fatal blow against the Eternal Empire. Alongside the mysterious and deadly Droid SCORPIO, the Outlander's team must infiltrate a Zakuulan warship and face Arcann's formidable force of elite soldiers. When the mission goes awry, the Outlander must find a way out of a deadly trap – only to be faced with the ultimate betrayal.
Players of Star Wars: The Old Republic can play Knights of the Fallen Empire from Chapter 1 through the current chapter, The GEMINI Deception, for free** as a Subscriber. Additionally, as part of the Subscriber Rewards Program, those subscribed by July 1 will receive an in-game HK-55 Victory Stronghold Decoration*, inspired by the legendary Assassin Droid.
Find out more about the ongoing story of Star Wars: The Old Republic – Knights of the Fallen Empire: www.StarWarsTheOldRepublic.com/Fallen-Empire.
---
*CONDITIONS AND RESTRICTIONS APPLY. SEE HTTP://WWW.SWTOR.COM/FALLEN-EMPIRE/REWARDS FOR DETAILS.
** ACCEPTANCE OF END USER ACCESS AND LICENSE AGREEMENT ('EUALA'), PERSISTENT INTERNET CONNECTION, AND ACCOUNT REGISTRATION REQUIRED TO PLAY. MUST BE 13+ TO REGISTER. ACCOUNT IS NON-TRANSFERABLE ONCE USED. PAID SUBSCRIPTION, VALID AND ACCEPTED PAYMENT METHOD OR PAID GAME TIME CARD (IF AVAILABLE) REQUIRED TO ACCESS SUBSCRIPTION GAMEPLAY. PAYMENT METHOD AGE RESTRICTIONS MAY APPLY. SWTOR ONLINE SERVICE MAY BE DISCONTINUED. SEE EUALA FOR DETAILS. AGREEMENT TO SHARE ACCOUNT INFORMATION WITH LUCASFILM ENTERTAINMENT COMPANY LTD. ('LUCASFILM') IS REQUIRED TO ACCESS GAMEPLAY. GAME INTENDED FOR PLAY ONLY WITHIN NORTH AMERICA, EUROPE AND CERTAIN OTHER TERRITORIES. USE OF CARTEL COINS SUBJECT TO DIGITAL SERVICES AGREEMENT. PRIVACY POLICY AND TERMS OF SERVICE AVAILABLE AT WWW.SWTOR.COM. ALL TERMS AND CONDITIONS TO PLAY THE GAME APPLY AT ALL TIMES. SUBSCRIPTIONS MAY BE CANCELLED AT ANY TIME. SEE WWW.SWTOR.COM FOR DETAILS.