Press Releases
04.07.2016
Confront the Immortal Emperor in the New Chapter of Star Wars™: The Old Republic™ – Knights of the Fallen Empire
VISIONS IN THE DARK Releases Today!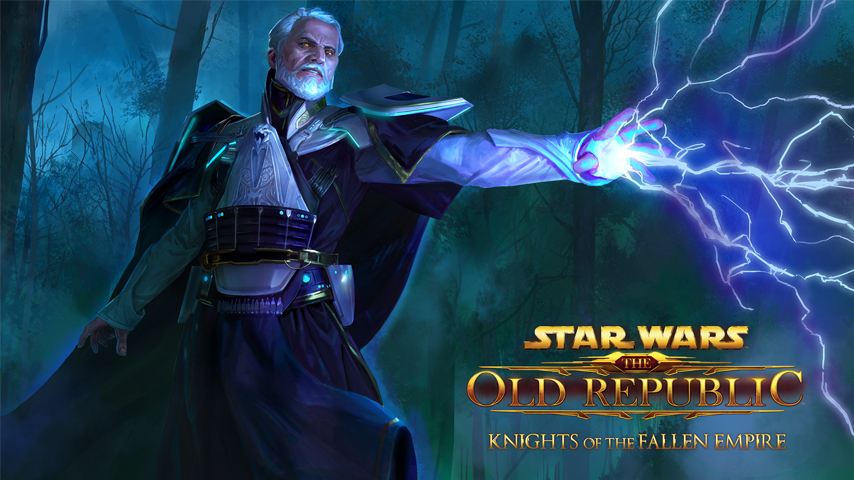 BioWare™ and Lucasfilm today released the latest episodic chapter of Star Wars™: The Old Republic™ – Knights of the Fallen Empire. Visions in the Dark introduces a darker, more ominous story as the Outlander's battle intensifies both within his Alliance and the Eternal Empire itself. In this chapter, the Outlander must face the Immortal Emperor Valkorion and confront the truth of his destiny…
Players can embark on the Knights of the Fallen Empire storyline beginning with Chapter 1 through Visions in the Dark for free* as a Subscriber. Star Wars: The Old Republic is introducing additional new gameplay experiences with this chapter:
New Alliance Mission – Rumors of a Sith artifact lead you to Yavin, where you discover the ancient Dashade warrior, Ak'ghal Usar, who you can recruit as your Companion. Free from captivity, Ak'ghal seeks vengeance against the captors who've nearly eliminated his species.
New PvP Challenges – Prepare for the fight against the Eternal Empire in the newest 8v8 Odessen Proving Grounds or fight to the death in the new 4v4 Rishi Cove Arena.
New "Visionary" Cartel Market Pack – Inspired by the latest chapter, the new "Visionary" Cartel Pack offers players the opportunity to get unique Jedi-inspired items, including Grand Master Satele Shan's gear, new Acklay creature mount, and more.
Find out more about the ongoing story of Star Wars: The Old Republic – Knights of the Fallen Empire at www.StarWarsTheOldRepublic.com/Fallen-Empire.
---
* ACCEPTANCE OF END USER ACCESS AND LICENSE AGREEMENT ('EUALA'), PERSISTENT INTERNET CONNECTION, AND ACCOUNT REGISTRATION REQUIRED TO PLAY. MUST BE 13+ TO REGISTER. ACCOUNT IS NON-TRANSFERABLE ONCE USED. PAID SUBSCRIPTION, VALID AND ACCEPTED PAYMENT METHOD OR PAID GAME TIME CARD (IF AVAILABLE) REQUIRED TO ACCESS SUBSCRIPTION GAMEPLAY. PAYMENT METHOD AGE RESTRICTIONS MAY APPLY. SWTOR ONLINE SERVICE MAY BE DISCONTINUED. SEE EUALA FOR DETAILS. AGREEMENT TO SHARE ACCOUNT INFORMATION WITH LUCASFILM ENTERTAINMENT COMPANY LTD. ('LUCASFILM') IS REQUIRED TO ACCESS GAMEPLAY. GAME INTENDED FOR PLAY ONLY WITHIN NORTH AMERICA, EUROPE AND CERTAIN OTHER TERRITORIES. USE OF CARTEL COINS SUBJECT TO DIGITAL SERVICES AGREEMENT. PRIVACY POLICY AND TERMS OF SERVICE AVAILABLE AT
WWW.SWTOR.COM
. ALL TERMS AND CONDITIONS TO PLAY THE GAME APPLY AT ALL TIMES. SUBSCRIPTIONS MAY BE CANCELLED AT ANY TIME. SEE
WWW.SWTOR.COM
FOR DETAILS.