Press Releases
02.18.2016
BioWare Announces Disavowed – Coming March 10, 2016
The Battle Intensifies in the Next Chapter of Star Wars: The Old Republic - Knights of the Fallen Empire
Watch the Disavowed Teaser here: https://youtu.be/koFaqipjZR4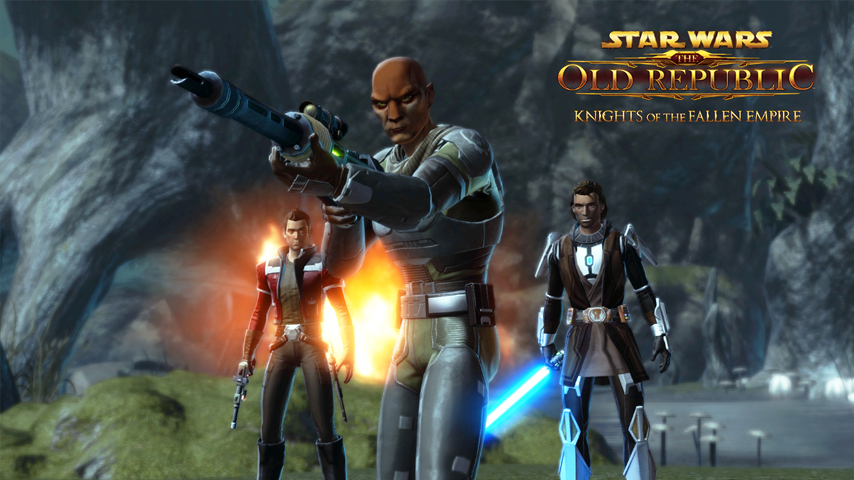 BioWare™ and Lucasfilm today announced the release date of the next chapter in the episodic expansion story, Star Wars™: The Old Republic™ – Knights of the Fallen Empire. Disavowed follows the Outlander's story beyond Anarchy in Paradise and re-introduces a familiar face, Major Jorgan, the commander of the elite soldiers of Havoc Squad. Starting March 10, Jorgan joins the Alliance and battles alongside the Outlander in a deadly mission deep behind enemy lines. It's up to the Outlander to determine how far Jorgan and his soldiers are allowed to go in the war against the Eternal Empire.
Subscribers of Star Wars: The Old Republic can join and play at the center of their own Knights of the Fallen Empire story for free* during their subscription period. Players who subscribe by March 1, 2016 will receive 2-Day Early Access to Disavowed and the HK-55-inspired in-game Helmet which gives players a legendary likeness to the iconic Assassin Droid**.
New players can jump right into the Knights of the Fallen Empire story as the Outlander, creating a new Level 60 character. Joining at Level 60 offers an accessible story-driven starting point where players can begin building their Alliance in the action-filled Star Wars™ epic.
During its first 2 months, fans of the Knights of the Fallen Empire expansion logged more than 900 million minutes fighting the Eternal Empire and made more than 27 million player-driven Light and Dark side choices that shaped their story. The rich storyline will continue to expand this year with the introduction of intriguing new characters and difficult choices as players lead the fight to save the galaxy.
To learn more, visit www.StarWarsTheOldRepublic.com/Fallen-Empire.
---
* ACCEPTANCE OF END USER ACCESS AND LICENSE AGREEMENT ('EUALA'), PERSISTENT INTERNET CONNECTION, AND ACCOUNT REGISTRATION REQUIRED TO PLAY. MUST BE 13+ TO REGISTER. ACCOUNT IS NON-TRANSFERABLE ONCE USED. PAID SUBSCRIPTION, VALID AND ACCEPTED PAYMENT METHOD OR PAID GAME TIME CARD (IF AVAILABLE) REQUIRED TO ACCESS SUBSCRIPTION GAMEPLAY. PAYMENT METHOD AGE RESTRICTIONS MAY APPLY. SWTOR ONLINE SERVICE MAY BE DISCONTINUED. SEE EUALA FOR DETAILS. AGREEMENT TO SHARE ACCOUNT INFORMATION WITH LUCASFILM ENTERTAINMENT COMPANY LTD. ('LUCASFILM') IS REQUIRED TO ACCESS GAMEPLAY. GAME INTENDED FOR PLAY ONLY WITHIN NORTH AMERICA, EUROPE AND CERTAIN OTHER TERRITORIES. USE OF CARTEL COINS SUBJECT TO DIGITAL SERVICES AGREEMENT. PRIVACY POLICY AND TERMS OF SERVICE AVAILABLE AT
WWW.SWTOR.COM
. ALL TERMS AND CONDITIONS TO PLAY THE GAME APPLY AT ALL TIMES. SUBSCRIPTIONS MAY BE CANCELLED AT ANY TIME. SEE
WWW.SWTOR.COM
FOR DETAILS.
**CONDITIONS AND RESTRICTIONS APPLY. SEE
HTTP://WWW.SWTOR.COM/FALLEN-EMPIRE/REWARDS
FOR DETAILS.