Press Releases
02.11.2016
Play Now: Star Wars: The Old Republic - Knights of the Fallen Empire, Anarchy in Paradise
Watch the New Launch Trailer here: https://www.youtube.com/watch?v=923_YtK0MII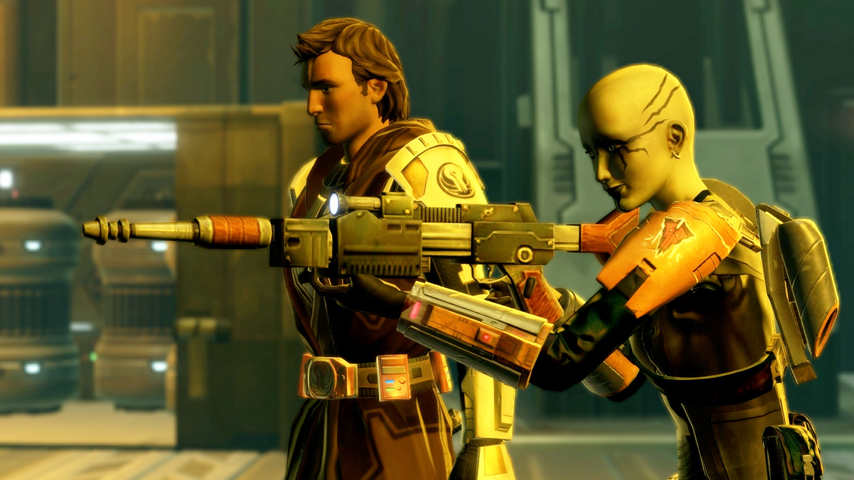 BioWare and Lucasfilm today released a new chapter in the episodic story, Star Wars™: The Old Republic™ – Knights of the Fallen Empire. Anarchy in Paradise is the first in a series of seven new chapters and introduces the infamous mercenary known as Firebrand, who's on a mission to destroy the Eternal Empire.
With the addition of Firebrand to the Alliance, it is up to the Outlander to decide just how far he or she is willing to go to defeat the Eternal Emperor.
Star Wars: The Old Republic – Knights of the Fallen Empire launched last fall, continuing an epic adventure that also serves as a starting point for new players at Level 60. The player-driven storyline puts fans at the center of their own Star Wars™ saga making choices that impact their story alongside unexpected twists and turns. New players can jump right into the evolving story, create a new Level 60 character and start building their Alliance in the expansion which has been praised for its deep BioWare storytelling set in the rich Star Wars universe.
Knights of the Fallen Empire, including Anarchy of Paradise, is free to Subscribers. Plus, Subscribers as of February 1, 2016 will be rewarded with the HK-55 Jetpack in-game item as part of the new Subscriber Rewards Program listed here.
More details on today's Anarchy in Paradise release can be found here.