News Articles
12.12.2017
Celebrating #SWTOR6
Help us celebrate six years of Star Wars™: The Old Republic™! As a thank you to our players, we've added some exciting new rewards that you can now claim in-game. Get your celebratory items by Tuesday, January 16, 2018 to help us make this a year to remember!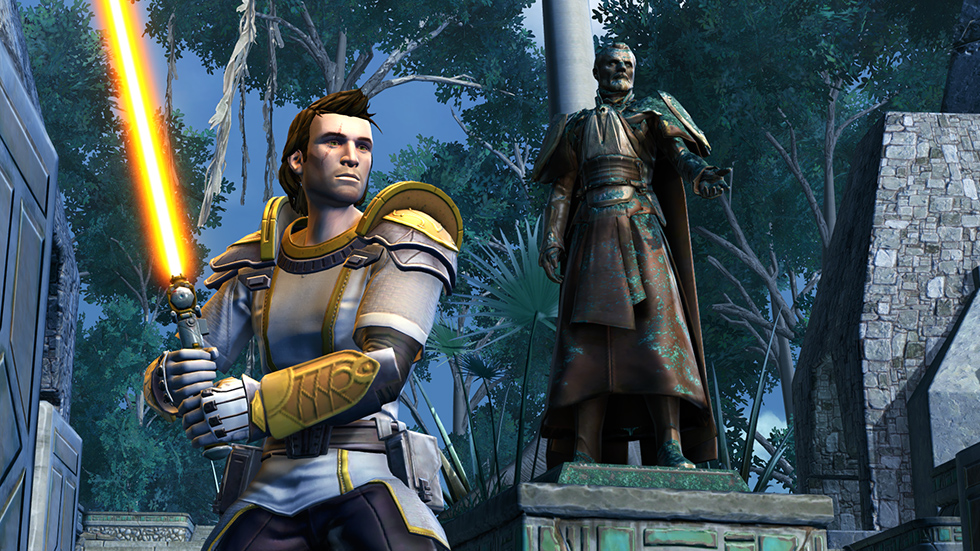 Simply use the "Emergency Fleet Pass" ability located in your ability bar (Type "P") to get the Republic or Imperial Fleet. Then, visit the "Strongholds and Crew Skills" area of the Fleet to get your rewards:
Visit the "Anniversary Personnel" vendor to claim new in-game rewards including the impressive Valkorion Commemorative Statue decoration as well as a unique 6-Year Anniversary Character Flair!
Then, for a limited-time, move into Coruscant and Dromund Kaas Strongholds for only SIX CREDITS each (normally 5,000 credits) by visiting the "Strongholds Terminal."
Plus, all previous anniversary rewards available through the 'Anniversary Personnel' vendor is back! From the 5-year Anniversary Celebration Jawa to the 4-year Anniversary Commemorative Statue of HK-51, now's your chance to get your hands on iconic anniversary collectibles.
Thank you for a great six years and May the Force™ Be With You!
Stay connected through our Community Blog, Facebook, Twitter, YouTube, Instagram, and Twitch!
*THE 6-YEAR ANNIVERSARY PROMOTION FOR STAR WARS: THE OLD REPUBLIC (SWTOR) BEGINS TUESDAY, DECEMBER 12, 2017 AND ENDS TUESDAY, JANUARY 16, 2018 AT 11:59AM PST / WEDNESDAY, JANUARY 17, 2018 AT 7:59AM GMT. PLAYERS MUST BE AT LEAST LEVEL 10 TO GET TO THE REPUBLIC OR IMPERIAL FLEET AND MAY UNLOCK UP TO 50 OF EACH DECORATION REWARD FOR THEIR LEGACY. THIS OFFER IS FOR PROMOTIONAL PURPOSES ONLY AND DOES NOT HAVE A CASH VALUE. REQUIRES AN ACTIVE ACCOUNT FOR SWTOR (AVAILABLE SEPARATELY). MAY NOT BE COMBINED WITH ANY OTHER PROMOTIONAL OR DISCOUNT OFFER, UNLESS EXPRESSLY AUTHORIZED BY EA; MAY NOT BE COMBINED WITH ANY PREPAID CARD REDEEMABLE FOR THE APPLICABLE CONTENT. OFFER MAY NOT BE SUBSTITUTED, EXCHANGED, SOLD OR REDEEMED FOR CASH OR
OTHER GOODS OR SERVICES. ITEMS CANNOT BE SOLD OR TRADED IN-GAME. VOID WHERE PROHIBITED, TAXED OR RESTRICTED BY LAW. VISIT WWW.SWTOR.COM/FREE FOR ADDITIONAL DETAILS.