News Articles
11.09.2017
Get your own Special Forces Armor
The Star Wars™: The Old Republic™ team is excited to celebrate the launch of Star Wars™ Battlefront™ II this month! Now through November 20th, redeem the code 'SPECIALFORCES' at www.swtor.com/redeem-code to claim your free Special Forces Armor in Star Wars: The Old Republic and get the look inspired by the elite Inferno Squad forces from Star Wars Battlefront II.
The custom-crafted Special Forcers Armor provides protection and mobility for the most elite soldiers in the galaxy. As you enter into battle, a unique observer droid is deployed, completing your heroic look!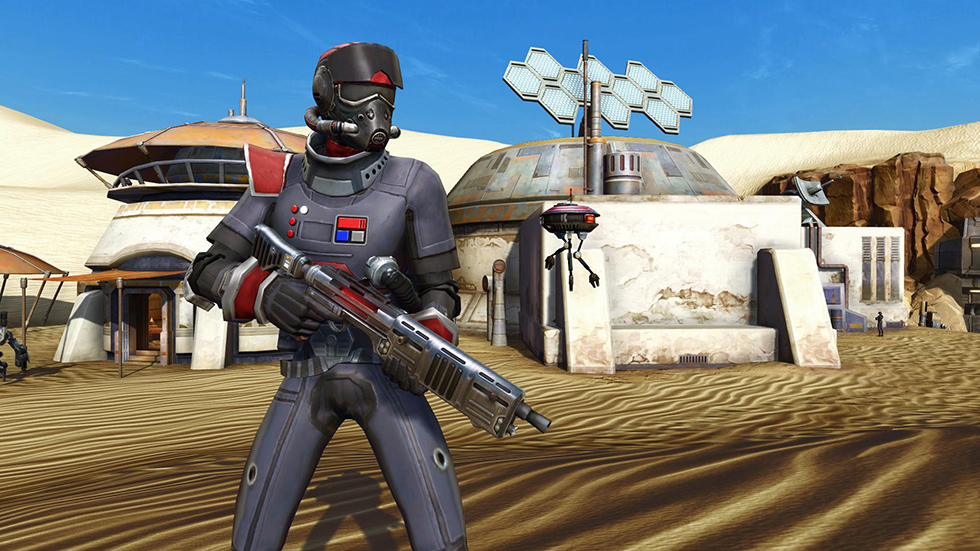 Hurry! This code expires Monday, November 20, 2017 at 11:59PM PST / Tuesday, November 21, 2017 at 7:59AM GMT.
And don't forget to jump into Star Wars Battlefront II, on sale now for PC, PlayStation 4 and XBOX One.
Stay connected through our Community Blog, Facebook, Twitter, YouTube, Instagram, and Twitch!
* THIS OFFER IS BEING ISSUED TO YOU FOR PROMOTIONAL PURPOSES ONLY AND DOES NOT HAVE A CASH VALUE. REQUIRES AN ACTIVE ACCOUNT FOR STAR WARS: THE OLD REPUBLIC. MAY NOT BE COMBINED WITH ANY OTHER PROMOTIONAL OR DISCOUNT OFFER, UNLESS EXPRESSLY AUTHORIZED BY EA; MAY NOT BE COMBINED WITH ANY PREPAID CARD REDEEMABLE FOR THE APPLICABLE CONTENT. LIMIT ONE OFFER PER PERSON. OFFER MAY NOT BE SUBSTITUTED, EXCHANGED, SOLD OR REDEEMED FOR CASH OR OTHER GOODS OR SERVICES. ITEM CANNOT BE SOLD OR TRADED IN-GAME. LIMIT ONE ITEM PER IN-GAME CHARACTER. VOID WHERE PROHIBITED, TAXED OR RESTRICTED BY LAW. VISIT
WWW.SWTOR.COM/FREE
FOR ADDITIONAL DETAILS.