News Articles
06.03.2016
PLAY NOW: STAR WARS™: THE OLD REPUBLIC™ - KNIGHTS OF THE FALLEN EMPIRE, MANDALORE'S REVENGE
Watch the Mandalore's Revenge Trailer here.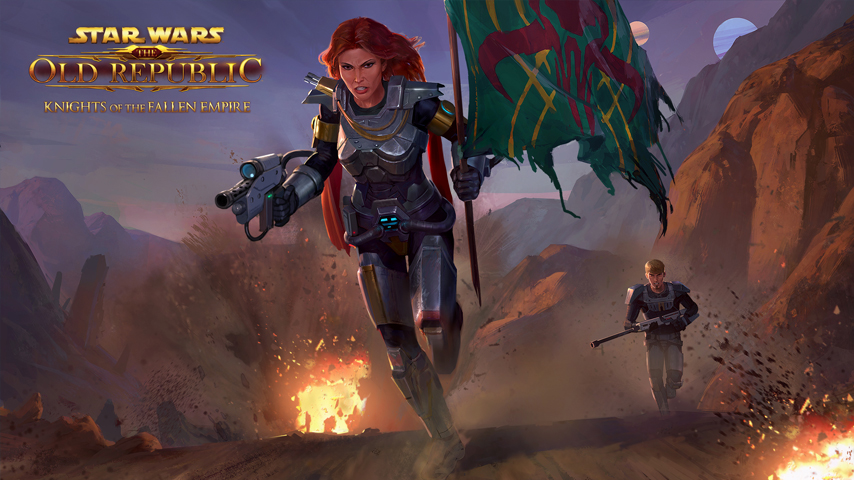 BioWare™ and Lucasfilm today released the latest chapter in the episodic storyline of Star Wars™: The Old Republic™ – Knights of the Fallen Empire. Mandalore's Revenge is available now and gives the Outlander an opportunity to confront Emperor Arcann with an army of ruthless Mandalorian warriors.
Enlist the help of the infamous bounty hunter Shae Vizla to seize control of the most powerful armada in the galaxy – the Eternal Fleet. Brave the harsh desert world of Darvannis with your Alliance and survive its brutal enemy forces in a desperate attempt to save the galaxy from the Eternal Empire forever.
Players of Star Wars: The Old Republic can play Knights of the Fallen Empire beginning with Chapter One: The Hunt through the current chapter, Mandalore's Revenge, for free* as a Subscriber. Those subscribed by June 1 will also receive the in-game Eternal Empire Speeder mount as part of the Subscriber Rewards Program and Early Access to Chapter 15 coming later this month. To join Early Access, you must be an active Subscriber.
Star Wars: The Old Republic is also introducing new gameplay experiences with this chapter:
New Alliance Mission:  Check out the new Alliance mission to recruit the savage Talz warrior, Broonmark, as your Companion. When a galactic diplomat reaches out to you for protection against a bloodthirsty assassin, your mission leads to a culprit seeking vengeance against everything the Republic stands for.
New Revenge Cartel Pack: Inspired by the latest Chapter, the new 'Revenge' Cartel Market Pack offers players the opportunity to get rare battle items, including the Vaylin-inspired Wicked Huntress Armor, Commander Vizla's Armor, Colicoid Droid Companion, and much more!
To get more details about the ongoing story of Star Wars: The Old Republic – Knights of the Fallen Empire, go to: www.StarWarsTheOldRepublic.com/Fallen-Empire.
Read about the Subscriber Rewards Program here: http://www.swtor.com/fallen-empire/rewards.
---
* ACCEPTANCE OF END USER ACCESS AND LICENSE AGREEMENT ('EUALA'), PERSISTENT INTERNET CONNECTION, AND ACCOUNT REGISTRATION REQUIRED TO PLAY. MUST BE 13+ TO REGISTER. ACCOUNT IS NON-TRANSFERABLE ONCE USED. PAID SUBSCRIPTION, VALID AND ACCEPTED PAYMENT METHOD OR PAID GAME TIME CARD (IF AVAILABLE) REQUIRED TO ACCESS SUBSCRIPTION GAMEPLAY. PAYMENT METHOD AGE RESTRICTIONS MAY APPLY. SWTOR ONLINE SERVICE MAY BE DISCONTINUED. SEE EUALA FOR DETAILS. AGREEMENT TO SHARE ACCOUNT INFORMATION WITH LUCASFILM ENTERTAINMENT COMPANY LTD. ('LUCASFILM') IS REQUIRED TO ACCESS GAMEPLAY. GAME INTENDED FOR PLAY ONLY WITHIN NORTH AMERICA, EUROPE AND CERTAIN OTHER TERRITORIES. USE OF CARTEL COINS SUBJECT TO DIGITAL SERVICES AGREEMENT. PRIVACY POLICY AND TERMS OF SERVICE AVAILABLE AT WWW.SWTOR.COM. ALL TERMS AND CONDITIONS TO PLAY THE GAME APPLY AT ALL TIMES. SUBSCRIPTIONS MAY BE CANCELLED AT ANY TIME. SEE WWW.SWTOR.COM FOR DETAILS.