News Articles
10.16.2012
See how many Complimentary Cartel Coins you can claim!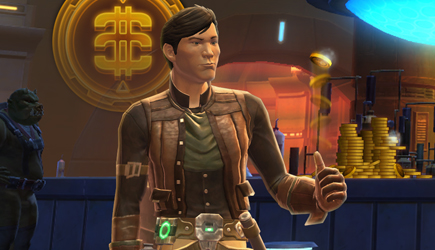 BioWare and LucasArts are excited to announce a new Cartel Coin Ledger page on www.StarWarsTheOldRepublic.com. This new web page is located on the left hand navigation bar within the "My Account" section. It gives you a detailed list of all the Complimentary Cartel Coins you could potentially receive at the launch of the Free-to-Play option!
You will receive Complimentary Cartel Coins for all your previous and current subscription months. There are additional grants for the purchase of a Collector's Edition or a Digital Deluxe Edition, as well as a one-time reward at the launch of the Free-to-Play option. You'll only receive your Complimentary Cartel Coins if you're active and subscribed when we go live with the new Free-to-Play option.
The Complimentary Cartel Coins you will receive can be used to acquire must-have pets, vehicles, XP boosts, and more from the new Cartel Market when the Free-to-Play option launches.
For more information on all of the rewards you could potentially receive visit the Free-to-Play FAQ.
Also, check out www.StarWarsTheOldRepublic.com/FREE/Features for newly updated information concerning the Free-to-Play option. Don't forget that you can stay up to date on the latest news and announcements on Star Wars™: The Old Republic™ through Facebook, Twitter und YouTube!