News Articles
02.18.2011
STAR WARS: The Old Republic Fan Friday
As always, members of the Star Wars™: The Old Republic™ community continually inspire us. We have so many talented community members, and we'll continue our tradition of highlighting some of our favorites in this week's article. Enjoy the excellent fan art!
We're excited to present our very first Fan Site Spotlight this month featuring Mos Eisley Radio, and we also have more details about The Old Republic at PAX East.
That's not all! There are also some beautiful pieces of concept art from several planets, and some great new smilies and avatars for everyone to use on the forums.
Don't miss this month's Studio Insider for a step-by-step walkthrough for the creation of Sith Temple concept art and answers to community questions.
Community Creations
Over the last three decades Star Wars™ has inspired amazing fan creations across the globe, and our community has played a role by making many incredible contributions!
Don't hesitate to share your talents with us on the community forums! In each Fan Friday, we feature impressive creations directly from the community.
Fan Art
Community member KipDuron has a whole gallery of Star Wars art. We loved his vibrant, detailed work!
Neitsabes, from our French community, created this charming, dynamic Sith named Darth Warme.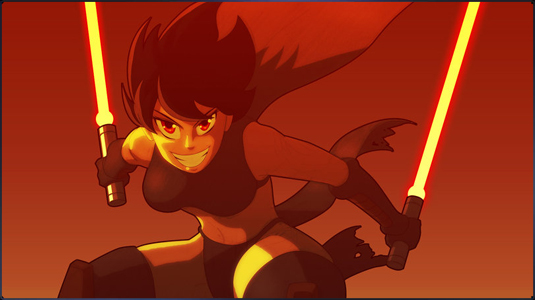 Fan Site Spotlight
Mos Eisley Radio is one of the most well-known Star Wars: The Old Republic podcasts today. In addition to their weekly show, they've recently started up two excellent video series: One that teaches about podcasting, and another specific to The Old Republic, "Open Bounty." Both are extremely entertaining, and well worth your time. We caught up with Brooks Guthrie and Zach Brown, the hosts, to discuss their show.
How did MER get started?
Ever since our previous podcast ran out of steam, we were throwing ideas around to start a new show. After going back and forth for a couple of months, we both realized the obvious choice was to start a podcast and fan site dedicated to The Old Republic. The community was growing at a record pace, and when the Deceived trailer was shown at E3 2009, we were hooked. A month later, we released the first episode of Mos Eisley Radio!
What do you enjoy most about running MER?
While we both enjoy the entire process of running Mos Eisley Radio, the best part is publishing a new episode and receiving that very first comment about the topics covered on the show. Seeing the community build around the podcast has been incredibly rewarding. We've said it a number of times on the show, but without such an awesome group of listeners, the podcast wouldn't at all be what it is today.
Do you have any advice for someone looking to start a podcast?
The best advice we could give for someone interested in starting a podcast would be to ask yourself, "How is my show different than the ones already out there?" For the most part, all of the The Old Republic podcasts are covering similar material, but what has made each show a success is the ability to present those topics in a different way that engages their audience. This leads to the second best piece of advice: form relationships with your listeners. Communicate with the people listening to the podcast and be willing to change your show to meet their needs.
Any big plans we should look forward to in the future?
Over the past few months we have been developing a new, documentary- style video podcast titled Open Bounty. The 10-15 minute show will be released every two weeks, and each will feature discussions about a specific topic that relates to The Old Republic. There are a few other things in the mix as well, but to quote BioWare, "We're not ready to talk about that yet."
What are you most excited about in SWTOR?
Zach: It's hard to say, but it's a toss-up between the story and simply having a new Star Wars MMO. I am really excited to see how the story will affect my leveling experience. I don't think I have ever played an MMO where I could even tell you about the storyline, and I'm looking forward to seeing if The Old Republic can change that.
Brooks: Easily the most exciting part of The Old Republic, for me, is the cinematic dialog. I rarely read quest text, and because of that the stories that developers spend hundreds of hours crafting are usually lost on me. With The Old Republic, I want to be able to look back on quests, Flashpoints, and Warzones and remember them the same way I remember scenes in the original Star Wars trilogy.
Will we see you at PAX East this year?
Definitely! We're very excited to head back to Boston and get our first hands-on with The Old Republic. Also, it seems as if just about every The Old Republic podcast and fan site is going to be in attendance, so we're looking forward to finally meeting the community in person.
What makes MER unique?
What makes Mos Eisley Radio unique is the atmosphere of the show. The feel of the podcast always stays casual, as if you were listening in on a conversation between two friends. We do our best to avoid bogging down in the tiny details of each update, and instead use the news coming from BioWare as a basis for larger discussions about The Old Republic.
What's one of your favorite episodes of MER?
Zach: Either Episode 21 or 22 of MER. We had Jeff Cannata and Scott Johnson on our podcast. It was cool to discuss this stuff with people we admired so much. The Instance probably had the most influence on our podcast when we first started doing it.
Brooks: Episode 22 with Scott Johnson of The Instance is hands-down my favorite episode of Mos Eisley Radio. Sitting for almost three hours to talk shop about The Old Republic with someone I've looked up to for so long was really rewarding. However, honorable mention goes to episode 26, where we were joined by Kathy and Carla of Corellian Run Radio. I had an absolute blast talking everything from Warzones to dating.
That's it for this Fan Site Spotlight! Thanks to Mos Eisley Radio for participating in this first installment. Do you know or operate a fan site we should feature? Send us a link and we'll check it out. Please note that only fan sites that adhere to our Fan Site Agreement can be featured in the Fan Site Spotlight.

PAX East Update
More details are now available about The Old Republic at PAX East this year. You'll be able to see us at Booth 912 during the convention – make sure to stop by!
We'll also be hosting a Community Meet and Greet on the evening of Saturday, March 12, where we look forward to meeting you all! Please stay tuned to the Events page for more details as they become available.
Concept Art
We have more great planet concept art to share with you. Check out these environment images of Alderaan, Hutta, Taris, Voss, and Nar Shaddaa.
Smilies

This week we have some terrific Sullustan smilies to share with you. We hope you'll enjoy them! To use a smiley, click "More" in the Smilies section off to the right when creating a post. From there simply click on the smiley of your choice.
Forum Avatars
We braved some of the most dangerous locales in the galaxy to bring you this week's creature avatars. Handle with care – they're known to bite! To use one of these new avatars, log in, go to My Account, and click Avatar. From there, navigate through the pages until you find the avatar of your choice.
Polls
We want to know! You can find these polls in the Surveys and Polls section of the website.
---