Developer Blogs
03.21.2013
State of the Game #3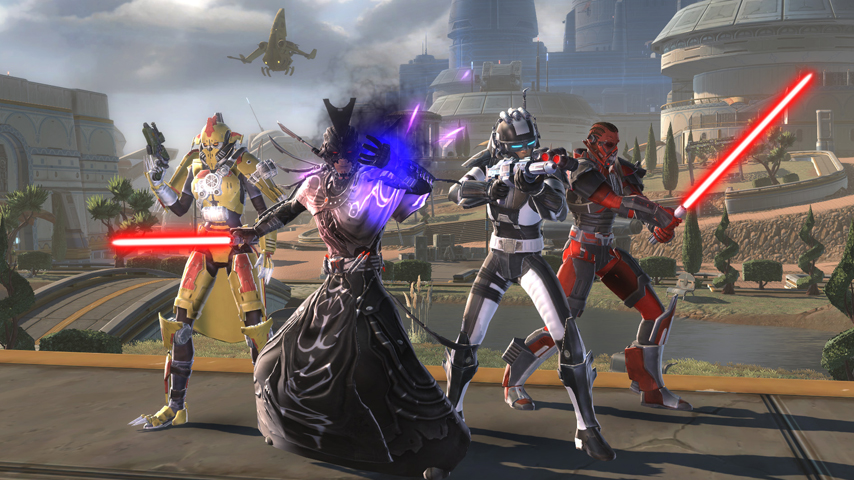 Hi everyone,
With the launch of the Relics of the Gree event behind us, I wanted to take this opportunity to talk about the general state of the game and the launch of our Free-to-Play option.
Judging by the conversation in the forums and elsewhere, there appears to be a level of curiosity among many players to learn how things are going at the studio since the launch of the Free-to-Play option. Of course, that's natural. We're now about 120 days post-launch and more than 5 months into our new series of content updates, so we're just starting to get a feel for it ourselves. In our commitment to improve the overall player experience, it's important to reflect on all of the changes that we have made since last year.
Last spring, there was some uncertainty surrounding Star Wars™: The Old Republic™ as we were starting to lose subscribers and players were growing frustrated. In fairness, many of the complaints and worries were justified. In an effort to try to address everything, we just weren't sufficiently focused on improving the core experience.
At the end of the summer, we announced that were going to make the game more enjoyable than ever before by working to improve three key aspects of the game: making it easier to find friends to play with (via Group Finder), increasing the cadence of our content updates (so players wouldn't have to wait around for new stuff), and bringing back vitality to the game by reaching out to new players via a Free-to-Play option. In addition we introduced some cool new items for everyone to check out via the Cartel Market.
So how did it go? Well, you can see for yourself when you log in to the game. Our new, high capacity servers are teeming with people. Since launch of the Free-to-Play option we have had over 2 million new accounts created and have thousands of new players jumping in every single day. This means more people to play with, more growth for your guilds, more Warzone matches, and more ways for players to continue to advance their characters.
Even though there's bound to be dissent about every aspect of MMOs on the internet these days, player feedback, in general, has been very positive about the new things in the game. We're committed to continuing our 8-week new content cadence, and are looking forward to the launch of the first Digital Expansion: Rise of the Hutt Cartel this spring.
And I'm happy to announce that we'll be introducing several new features along the way, like a new customization feature, which will allow you to change your character's hair style, eye color, body type, or even species (including the upcoming Cathar!) using Cartel Coins. Look for it in early summer.
We know that there are still a lot of things we need to do to make playing Star Wars: The Old Republic the best experience it can be. We hear you on features such as hood toggle (as one example of many), Asia Pacific server populations (we are actively looking into solutions that make the most sense given our current tech and should have an announcement soon), continued improvement to the Cartel Market pricing and content, and the need to keep working on performance improvements and bugs. In fact, our major focus after Rise of the Hutt Cartel launches is going to be on "quality of life" improvements. We will keep at it, I promise. We'll keep listening to your feedback and continue to dedicate ourselves to making the game the best it can be. Nothing is more important to us than getting it right.
Thanks for your continued support and see you on Makeb!
-Jeff Hickman
Executive Producer, Star Wars: The Old Republic