The Sith Lords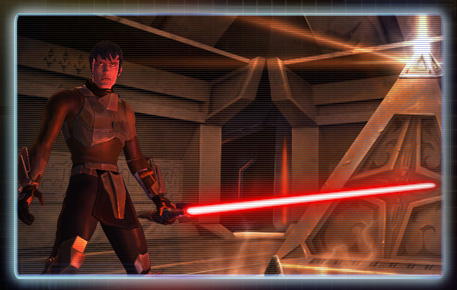 The true Sith have spent centuries building their strength in the depths of unknown space. The Sith Emperor patiently planned for the day when his Sith Empire would repay the Jedi for the humiliating defeats of the past. In that time, generations of Sith have come and gone, working hard and devoting their lives to the dream of vengeance.
With dark discipline and meticulous execution, the Sith's first assault on their enemies succeeded to near-perfection. They sliced through the Jedi and their defenses as if they weren't even there. Though their aggressive advances were eventually slowed, the Sacking of Coruscant settled any questions about whether the Sith were victorious.
In the years since the treaty, the twelve-member Sith Dark Council has overseen the consolidation of the Empire's new domains and the restructuring to put practical matters in the hands of the Imperial military so the Sith Lords can plan for the future. The Sith Lords' focus has now turned to recruiting and training new acolytes to increase the Empire's power. When the final battle with the Jedi comes, the Sith Lords plan to be prepared. There will be no mercy.
In the vaulted halls of the Sith Academy on Korriban and in the deep tombs of the great Dark Lords of the past, potential Sith must face arduous tests to prove their worthiness. Even if they survive this deadly training, though, their greatest challenge lies in the cruel competition of their fellow acolytes, as each vies for the favor of their Masters. Ultimately, only the strongest will become Sith; the others will simply die trying.

Origins in second Jedi Schism, 3,347 BTC

Dark Jedi intermarried with Sith race on Korriban

Defeated by the Jedi in the Great Hyperspace War

Governed by the Emperor and a 12-member Dark Council