Community News
09.17.2012
Server Consolidation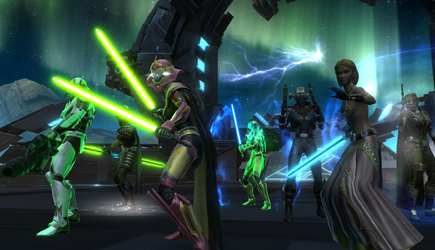 Hi everyone,
Earlier this summer we launched the Free Character Transfer Program which offered players the option to transfer their characters from specific origin servers to selected destination servers. Following the success of the Free Character Transfer Program, and after closely monitoring server populations, we have now taken the next step in our on-going server population balancing process. We have upgraded destination servers in order to support a significantly higher number of players. As of tomorrow, all characters on origin servers will be automatically moved onto the upgraded high population destination servers. By centralizing our player populations on these higher population destination servers, we feel that we can offer our players the best possible Star Wars™: The Old Republic™ experience.
As a result, you may find that some of your characters are now located on a different server. If your characters have been moved, you can find their new location on the server selection screen by clicking on the "Characters" column. Please be aware that no characters have been deleted as part of this process – all of your characters are still available to you and are ready to play!
However, you may find a red exclamation point next to your character's name on the character selection screen. This means that due to the consolidation, you will have to rename that character. Rest assured that we took a variety of factors into account when determining which characters needed to be renamed. For more information, please visit or Server Consolidation FAQ.
Additionally, players no longer need to have a unique Legacy name per server. Therefore, everyone will have an opportunity to create a new Legacy Name upon logging in to their character.
Finally, if one or more guilds with the same name exists on the same high population destination server, the guilds may find that their guild name has been changed to OriginalGuildName@OriginServer. Leaders of guilds who have been renamed in this manner and who wish to change their guild name will have a rename button available to them through their Guild Management window. Please note that while there is no time limit on the use of this button (at this time), it can only be used once.
Everything will be consolidated tomorrow and if you run into any issues, please let us know by posting in the forums. For more information, visit our Server Consolidation FAQ.
Thank you for your continued support!
The Star Wars: The Old Republic Team