Community News
12.12.2011
Guild Deployment Details

Now that your guilds are in the game, ready to go, here's everything you need to know about how Guild Deployment works.
How can I tell if/where my guild has been deployed?
Everyone will receive an email before Early Access with details about the status of their guild.
If your guild was successfully deployed to a server, you'll receive a link to the website that you can follow to find out what server your guild has been placed on.
If your guild was not deployed to a server because it did not meet the qualifications for import, you will be able to create your guild manually in the game.
Server assignments through the Guild HQ system are final and cannot be changed, but you and your guild are not in any way required to play on the server where you were placed. We have pre-created assigned guilds on specific servers as a convenience to you, and these assignments may be ignored at your discretion.
What happens if I don't like my server assignment?
Ignore it. You are more than welcome to create a new guild on a different server (as long as no one has already taken your desired guild name, of course). In order to create a guild in-game, you'll need to gather a full group of four players and 5,000 credits, then speak to the Guild Registrar on the Republic/Imperial Fleets.
I am happy with my server assignment. How do I join once I'm in the game?
When you first join the game and reach the Server Select screen, the server where your guild has been pre-created will be marked with a gold flag.

If you choose this server and create a character on it, you'll be presented with a dialogue box inviting you to join your guild when you enter the game. Accept that invite and you're in!
What happens if I decline my automatic guild invite?
Every character you create on the server will be offered an automatic invite until ONE of those characters has accepted the invite. At that point, no further invites will be offered to any future characters you create on that server.
What happens if I accidentally told the game to stop offering me invites, but I changed my mind?
There is an option in the Preferences pane (under Social) which allows you to ignore all automatic guild import invites. If you accidentally chose "Do not ask again" in the invite and selected "No," you can go to this panel and deselect the "Ignore Guild Import Offer" box. The next time you create a character on the server, you'll once again be asked to join.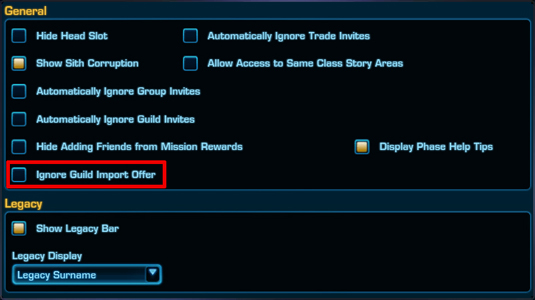 Can I join my pre-created guild with more than one character?
You can only accept an "automatic invite" once, so if you wish to add additional characters to the guild, you will need to reach out to your Officers or Guild Leader to send you additional invites.
What happens if our Guild Leader doesn't join the game immediately?
Guild Leaders have until two weeks after launch (January 2nd, in our case) to accept their automatic invite. At that point, if your Guild Leader has not arrived in-game and accepted their invite, the most senior Officer will be automatically promoted to Guild Leader. Please note that this means it could be possible for the guild to be leaderless for up to two weeks after launch, so make sure your Guild Leader is ready to join the game!