Community News
05.31.2012
Community Team General Update: May 31st, 2012
Hi everyone,
Last week, we mentioned that changes were coming to the Community Team and I wanted to take some time to go over them. I'm going to briefly outline one of our new initiatives, discuss a new shift in responsibilities for one of our main team members, and introduce the rest of the team.
The aforementioned initiative is intended to improve communication between the fans, the Community Team, and the development team by creating focused specializations. In short, going forward, each Community Team member will be specifically focused on a particular aspect of our game (PvP, Crew Skills, Operations, etc) and paired up with the appropriate developer so that they can respond to players more efficiently. We're still finalizing details internally, but as soon as every aspect of this project is in place, we will let you all know. We're all very excited about this and can't wait to share more.
As many of you may already know, Community Coordinator Eric Musco will be taking over for Sr. Community Coordinator David Bass as the community liaison to fan sites and guilds. Eric and David have been working closely together over the past few weeks to ensure a smooth hand off. While we're sad to see David leave, we wish him all the best in his new endeavor.
Finally, one of the very first things that we wanted to do with these new changes was to introduce ourselves. We'll be giving you a very brief introduction this week, but you'll be seeing more in-depth profiles from each of us in the upcoming weeks.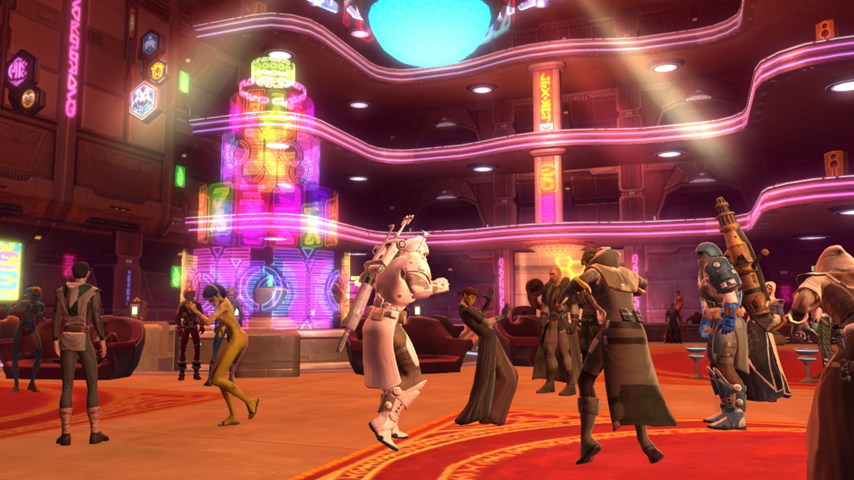 I'll go ahead and start. My name is Joveth Gonzalez and I'm the Online Community Manager. I'm currently overseeing the development of our new community initiatives, wrangling up blog posts for the community blog, and handling various general day to day community issues. Oh, and I play as a Scoundrel because I love sneaking around.
Sr. Community Coordinator Allison Berryman is heavily involved in writing all of the Patch Notes and in managing the Community Representatives on our forum (they're the people that help moderate our forums and keep them clean—we'll be introducing you to them soon). Allison is also active in the forums, so you may have already seen her pop up in various threads. She currently switches between playing a Sage, Operative, and a Juggernaut.
Community Production Coordinator Alyson Bridge, along with Assistant Community Production Coordinator Courtney Woods, prepares and publishes content on SWTOR.com, and coordinates the localization of the website in French and German. Courtney also assists with writing and developing blogs for the Community Blog section of our site. Alyson plays as a Marauder while Courtney plays as a Sniper and Commando.
Community Coordinator Eric Musco, as mentioned above, will act as the community liaison to fan sites and guilds. In addition to that, he will be coordinating our presence at any upcoming shows. He is currently playing as a Trooper.
Community Coordinator Eric Campbell helps Allison with managing our Community Representatives. In addition to that, he handles our social media presence and manages our Social Media Representatives. Eric plays on the dark side as a Sith Inquisitor.
Live Community Coordinator Amber Green makes sure that any issues that develop get escalated to the Live Services team and gets messages out to the community accordingly. She is also on point for handling any community messaging for each maintenance window. Amber currently plays a Jedi Sage.
Finally, we have our European Community Manager Chris Collins and his incredible Community Team over in Ireland. I'll let them introduce themselves properly in a future post, but they take care of the European community, including the German and French communities. They also help us with the localization of community blogs and other various documents.
And there you go. That's a very brief intro to our team, and as I mentioned earlier, we're going to be going more in-depth with each Community Team member in the upcoming weeks.
We're excited about these new changes, and we hope that you are as well. We are committed to working with the community and we will continue to do so through Game Update 1.3, Character Transfers, and beyond.
Thank you,
The SWTOR Community Team