Press Releases
06.15.2015
BIOWARE REVEALS STAR WARS™: THE OLD REPUBLIC™ DIGITAL EXPANSION — KNIGHTS OF THE FALLEN EMPIRE
Largest Expansion To Date Marks Renewed Focus On Cinematic Storytelling
Check Out The Knights Of The Fallen Empire Launch Trailer Here.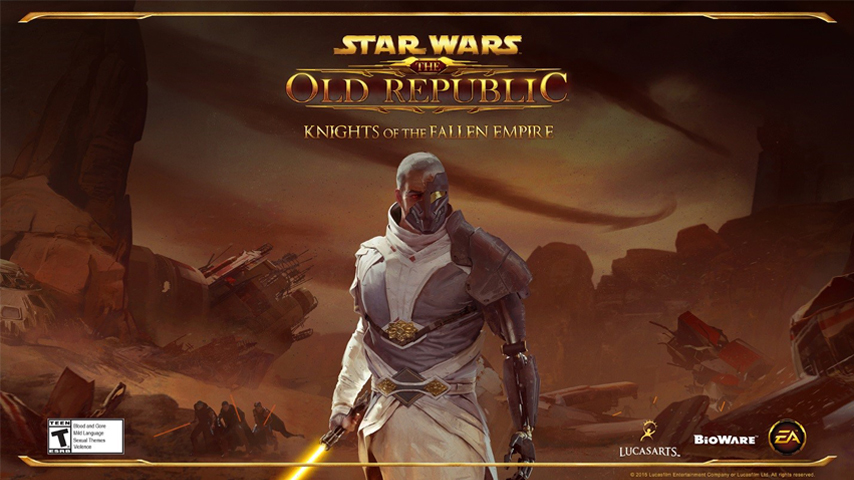 AUSTIN, Texas – June 15, 2015 – BioWare™, an Electronic Arts Inc. (NASDAQ:EA) studio, and Lucasfilm revealed that a brand-new digital expansion, Star Wars™: The Old Republic™- Knights of the Fallen Empire, will be available for download on October 27, 2015. The largest story-driven expansion to date, Knights of the Fallen Empire marks a renewed focus on cinematic storytelling in Star Wars™: The Old Republic™ by introducing a new personal story arc where player choice will shape the journey. The expansion puts the player at the center of their own personal saga, playing as the Outlander, a veteran of the Great Galactic War. The player will come face-to-face with a new enemy, the Emperor of the Eternal Empire, only to discover that his dark destiny is tied to their own. The digital expansion will deliver on the hallmarks of what makes a great BioWare game: new worlds to explore, new companions to recruit into your alliance, and a dynamic story that players will be able to shape based on the choices they make. Knights of the Fallen Empire will launch with the first nine chapters of an evolving story, with new chapters releasing regularly to offer new challenges, fresh storylines, and an expanding cast of new characters to meet and join – or betray. The expansion will also raise the player level cap to 65, and includes a Level 60 character so players can immediately jump into the new story-driven content. The expansion will be available for free* to all subscribers of Star Wars: The Old Republic.
In addition, with the launch of Knights of the Fallen Empire the original eight class stories from Star Wars: The Old Republic will be enhanced to deliver a more immersive and engaging single-player story arc for players old and new. Plus, end-game experiences in Star Wars: The Old Republic will be advanced, giving players the option to join with friends in a variety of multiplayer missions upgraded to Level 60+.
As part of the announcement, BioWare is excited to unveil the "Knights of the Fallen Empire Rewards Program". Between now and October 19, Subscribers can earn a collectible set of rewards each month that includes the Companion Nico Okarr, Nico's Duster and Blasters set, and a Star Wars: Knights of the Old Republic-themed Swoop Bike. Players that collect all four rewards will receive as a bonus Early Access to Knights of the Fallen Empire beginning seven days prior to public release on October 20. For more information on the Rewards Program, visit: www.StarWarsTheOldRepublic.com/fallen-empire/rewards.
Star Wars: The Old Republic is a Free-to-Play*, award-winning MMO set thousands of years before the classic Star Wars™ movies. Players team up with friends online to fight in heroic battles between the Republic and Empire, exploring a galaxy of vibrant planets and experiencing visceral Star Wars combat. Now players can experience the complete storylines of the eight iconic Star Wars classes, without having to pay a monthly fee. The Free-to-Play option complements the existing subscription offering, providing greater flexibility in how to experience Star Wars: The Old Republic.
For more information on the Star Wars: The Old Republic Digital Expansion, Knights of the Fallen Empire, please visit www.StarWarsTheOldRepublic.com/fallen-empire. Visit www.StarWarsTheOldRepublic.com/play-free to try the game today. Join the conversation by visiting the official Community Blog, Facebook, Twitter, YouTube, Twitch and Instagram. For additional press assets, please visit http://info.ea.com.
---
* ACCEPTANCE OF END USER ACCESS AND LICENSE AGREEMENT ('EUALA'), PERSISTENT INTERNET CONNECTION, AND ACCOUNT REGISTRATION REQUIRED TO PLAY. MUST BE 13+ TO REGISTER. ACCOUNT IS NON-TRANSFERABLE ONCE USED. PAID SUBSCRIPTION, VALID AND ACCEPTED PAYMENT METHOD OR PAID GAME TIME CARD (IF AVAILABLE) REQUIRED TO ACCESS SUBSCRIPTION GAMEPLAY. PAYMENT METHOD AGE RESTRICTIONS MAY APPLY. SWTOR ONLINE SERVICE MAY BE DISCONTINUED. SEE EUALA FOR DETAILS. AGREEMENT TO SHARE ACCOUNT INFORMATION WITH LUCASFILM ENTERTAINMENT COMPANY LTD. ('LUCASFILM') IS REQUIRED TO ACCESS GAMEPLAY. GAME INTENDED FOR PLAY ONLY WITHIN NORTH AMERICA, EUROPE AND CERTAIN OTHER TERRITORIES. USE OF CARTEL COINS SUBJECT TO DIGITAL SERVICES AGREEMENT. PRIVACY POLICY AND TERMS OF SERVICE AVAILABLE AT WWW.SWTOR.COM. ALL TERMS AND CONDITIONS TO PLAY THE GAME APPLY AT ALL TIMES. SUBSCRIPTIONS MAY BE CANCELLED AT ANY TIME. SEE WWW.SWTOR.COM FOR DETAILS.
About Lucasfilm
STAR WARS © & ™ Lucasfilm Ltd. All Rights Reserved. Used Under Authorization.
LUCASARTS, THE LUCASARTS LOGO, STAR WARS AND RELATED PROPERTIES ARE TRADEMARKS IN THE UNITED STATES AND/OR IN OTHER COUNTRIES OF LUCASFILM LTD. AND/OR ITS AFFILIATES. © 2013-2015 LUCASFILM ENTERTAINMENT COMPANY LTD. OR LUCASFILM LTD. ALL RIGHTS RESERVED. BIOWARE AND THE BIOWARE LOGO ARE TRADEMARKS OF EA INTERNATIONAL (STUDIO AND PUBLISHING) LTD. EA AND THE EA LOGO ARE TRADEMARKS OF ELECTRONIC ARTS INC. ALL OTHER TRADEMARKS ARE THE PROPERTY OF THEIR RESPECTIVE OWNERS.
About Electronic Arts
Electronic Arts (NASDAQ: EA) is a global leader in digital interactive entertainment. The Company delivers games, content and online services for Internet-connected consoles, personal computers, mobile phones and tablets. EA has more than 300 million registered players around the world.
In In fiscal year 2015, EA posted GAAP net revenue of $4.6 billion. Headquartered in Redwood City, California, EA is recognized for a portfolio of critically acclaimed, high-quality blockbuster brands such as The Sims™, Madden NFL, EA SPORTS™ FIFA, Battlefield™, Dragon Age™ and Plants vs. Zombies™. More information about EA is available at www.ea.com/news.
EA, EA SPORTS, Battlefield, Frostbite, Visceral Games, The Sims, Dragon Age and Plants vs. Zombies, are trademarks of Electronic Arts Inc. or its subsidiaries. Madden, NFL, FIFA, NHL, NBA, UFC, and PGA TOUR are the property of their respective owners and used with permission. Google Play is a trademark of Google Inc. App Store is a service mark of Apple Inc. All other trademarks are the property of their respective owners.