News Articles
04.10.2013
Earn Rewards for Being in a Guild!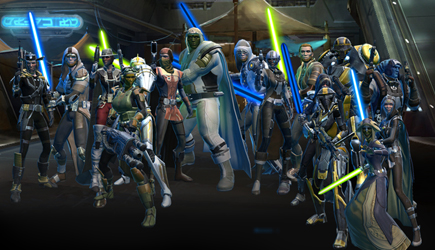 Are you ready to earn valuable rewards for joining a guild? We've got great news! We're excited to launch a new Guild Rewards Program which rewards player participation in guilds with in-game bonuses and benefits.
In this initial phase, players earn an additional 5% Guild XP Bonus for all experience gained while playing in a guild. So whether you're already in a guild or are looking to join or create one, jump in now to take advantage of this bonus!
We're working on adding more guild rewards so stay tuned to www.StarWarsTheOldRepublic.com/guildrewards for more details.
Stay connected to www.StarWarsTheOldRepublic.com or find us on Facebook, Twitter, and YouTube!