News Articles
12.11.2012
Share Your 1st Anniversary Celebration Moments with the community!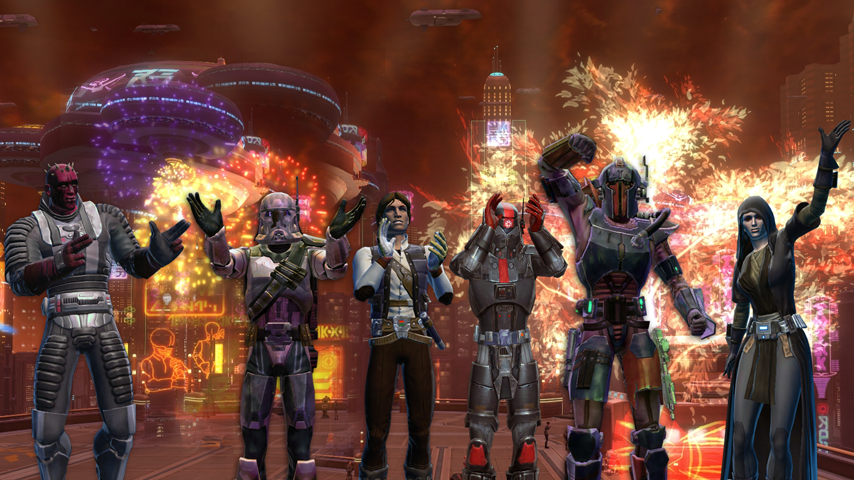 In anticipation of the 1st Anniversary for Star Wars™: The Old Republic™ on December 20th, we've gifted all members of our community with a valid Star Wars: The Old Republic account as of December 10th, 11:59PM CST, 25 complimentary stacks of faction-based fireworks! Thank you for your support this year!
Send Us Your 1st Anniversary In-Game Celebration Screenshots!
Between now and January 2, 11:59PM CST, send us screenshots of your best 1st Anniversary celebration moments for a chance to be featured on The Old Republic™ official website and Facebook page.
It's easy to participate:
Log in and take screenshots of your in-game 1st Anniversary celebration moments. Be creative! Choose a day and time to meet up with your guild or other players and create a spectacular celebration moment.
Guidelines for screenshots:

Screenshots should not be retouched or enhanced
Screenshots must solely utilize in-game environments and objects
Screenshots must be at least 800x600
We recommend turning off your User Interface
All submissions are subject to the Electronic Arts Terms of Service

Email your screenshots to celebrate_EN@swtor.com before January 2nd, 11:59PM CST.
Total email size cannot exceed 5MB.
To qualify to be featured, your email must include the following information:

Character Name(s)
Country of Origin

The following is optional, but may be included in your email:

One sentence describing what is going on in your picture
In-game location where the screenshot was taken
How long you've been playing the game
We look forward to your submissions and will feature our favorite 1st Anniversary celebration moments throughout the coming weeks!
Additional fireworks are available for purchase in the in-game Cartel Market. Need Cartel Coins? Visit buy.swtor.com.
Also, be sure to check out our latest Ancient Hypergate Trailer for Game Update 1.6 and stay connected with Star Wars: The Old Republic on Facebook, Twitter, and YouTube.