News Articles
10.11.2012
Game Update 1.5: HK-51 Activated is on Public Test Server!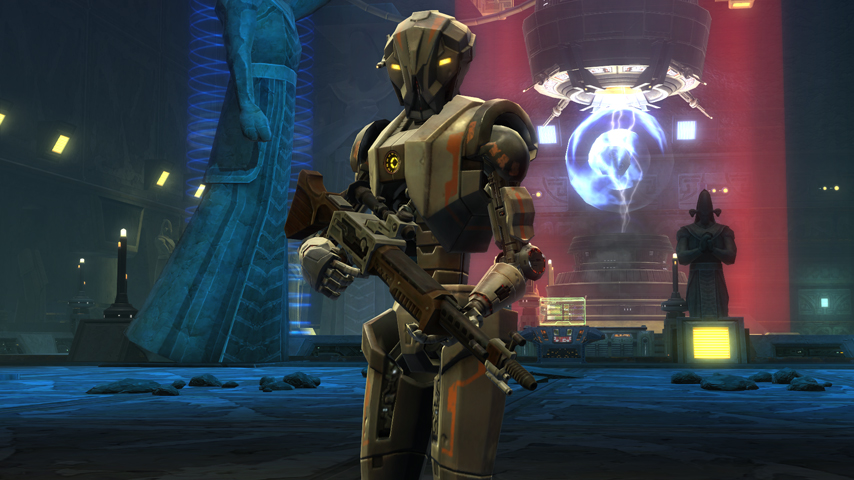 Game Update 1.5 is now on the Public Test Server (PTS) bringing with it new missions and an exciting new companion:
Get ready for an action-packed adventure to earn control of one of the galaxy's most deadly assassins, HK-51. Submerged beneath the icy surface of Belsavis lies a derelict ship and those who are brave enough to venture through the wreckage will earn a powerful new ally, the ruthless assassination droid, HK-51! See the "HK-51 Revealed" video now.
Explore Section X, a previously untouched area of the prison world of Belsavis. The Dread Masters' servants are searching for a powerful and ancient weapon. If they find what they are looking for they may overturn the war between the Empire and Republic. Journey to Section X and nullify the Dread Masters' dangerous plot.
Travel to Denova to take on the Operation: Explosive Conflict – now with a Nightmare Mode! Teams who complete this new mode can earn the final pieces of the Dread Guard gear set.
For those of you that already have a character, we encourage you to explore Section X, the new missions, and features. Please give us your feedback by posting on the Public Test Server forum. Unfortunately, we won't be able to offer the ability to copy characters for this test. Be sure to visit the Star Wars™: The Old Republic™ Test Center to learn more.