Developer Blogs
05.14.2013
Welcome to Game Update 2.1: Customization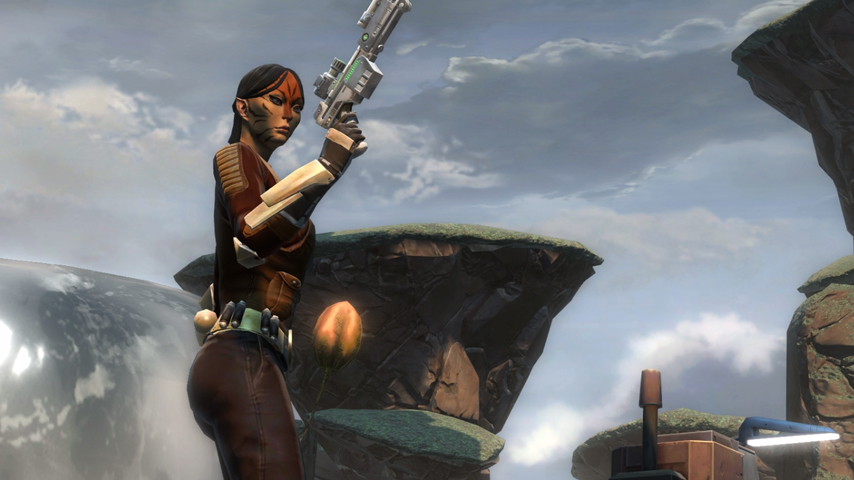 Howdy from Austin, Texas! We are thrilled to release Game Update 2.1: Customization today. This update introduces many highly requested and anticipated features to Star Wars™: The Old Republic™. As the name indicates, Game Update 2.1 is all about giving players the freedom to customize their characters to fully immerse themselves in their personal Star Wars™ saga.
What types of customization and convenience options are now available for purchase, you ask? Well, players will be able to change their Character, Legacy, and Guild names with new Cartel Market consumables. And if your character's look doesn't quite match their new name, then swing by one of the Appearance Designer Kiosks located on both Fleets and Capital Worlds and adjust almost anything about your character's image. This includes body type, face, scars, tattoos, hair style, eye, hair, and skin color. You can even change your character's species! For a completely fresh look, I would suggest trying out our brand new species, the Cathar! Subscribers can expect a permanent discount on these items.
Game Update 2.1 also introduces Dye Modules, which can be purchased as consumables on the Cartel Market, with in-game credits at the Security and Collector's Edition vendors, as well as through crafting. With our new Dye Mods you'll be able to recolor almost any piece of gear in The Old Republic. You can mix and match colors on each individual piece of gear, or you can choose to Unify Color for a more classic look.
One of our new convenience features we are especially excited about is the Collections Interface. Collections will allow players to unlock almost any Cartel Market item, and some special promotion items, on an account-wide level for a discounted price. An added benefit of this new interface is that you can free up some Cargo or Inventory space by simply destroying any item you have unlocked on that character and then just transferring a copy of that item to your inventory as needed.
As with all new features, you can definitely expect us to keep adding options for Dye Mods, the Appearance Designer Kiosks, and Collections. Game Update 2.1: Customization is unique in that it is almost entirely comprised of player-requested additions. Keep the feedback coming -- we're listening.
Until next time, see you in-game!
Cory Butler
Producer