News
01.10.2014
Game Update 2.6 is Now Live on PTS!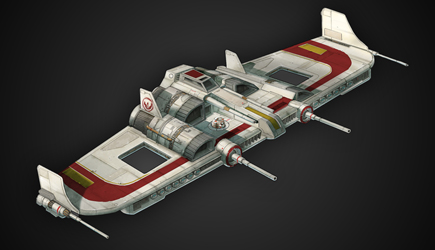 Game Update 2.6 is now live on our Public Test Server! We encourage you to explore the newest ship role in Galactic Starfighter: The Bomber! Get on, check everything out, and give us your feedback by posting on the Public Test Server forum.
Game Update 2.6 on PTS contains a host of new features including:
New Ship Role: Bomber – The Bomber ship role has been added to Galactic Starfighter, with six new ships available for unlock/purchase!
New Game Mode: Team Deathmatch – Team Deathmatch is a new game mode which pits teams of players against each other. The team with the highest player kill score when either time expires or the score limit is reached wins the match.
New Flashpoint: Kuat Drive Yards -The Republic and the Empire are calling on their greatest warriors to join the fight for control of the Kuat Drive Yards, a highly-contested orbital shipyard with one of the most prolific manufacturing facilities in the Galaxy.  Each time you play through Kuat Drive Yards, you have a chance to see a different series of randomized combat scenarios.
Please note, at this time, we will not be providing Customer Support for this test server. Attempts to file in-game tickets will result in an error message and will not be processed. Please use the Public Test Server Forums for feedback and any issues you may experience. All gameplay policies are still in place; inappropriate or abusive players will not be tolerated on the test server and we ask that you please report this behavior to Customer Support here.
To access the Public Test Server:
Log in to the Star Wars: The Old Republic launcher using your username and password.
Click the Settings button (gear) in the bottom left corner of the launcher
Under "Enable Public Test Server Access", select "Yes"
Click "Save"
Now the bottom left corner will have two buttons: select the new button next to settings
Under "Pick an Environment" select "Public Test"
Click "Next" and you will begin patching on the Public Test Server
Click "Play"
To transfer your character the Public Test Server, follow these instructions:
Log into www.swtor.com.
Click on your account name in the top right hand corner of the site.
Click "My Account."
In the left column, scroll down and click the link entitled "PTS Character Copy."
Select the server and then the character that you wish to copy from.
Click the "Copy Character" button.
The site will display the current status of your character copy at the top of the page. Additionally, you can click the "View your character transfer history" link to see if the copy has completed.
Be sure to click here to view the current Game Update 2.6 patch notes.
Your feedback and participation are truly appreciated.
The Star Wars: The Old Republic Community Team
---
La mise à jour 2.6 est maintenant disponible sur le serveur public de test !
La mise à jour 2.6 est maintenant disponible sur le serveur public de test ! Nous vous invitons à explorer le tout nouveau rôle de vaisseau en mode Chasseur galactique : le Bombardier ! Regardez ce qu'il en est et faites-nous part de vos remarques sur le forum du serveur public de test !
La mise à jour 2.6, disponible sur le serveur public de test, contient tout un éventail de nouveautés, parmi lesquelles :
un nouveau rôle de vaisseau : le Bombardier. Le rôle Bombardier a été ajouté au mode Chasseur galactique. Venez découvrir six nouveaux vaisseaux à déverrouiller/acheter !
un nouveau mode de jeu : le match à mort par équipe. Le match à mort par équipe est un nouveau mode de jeu dans lequel des équipes de joueurs s'affrontent. L'équipe qui a le meilleur score en termes de joueurs tués à la fin du temps imparti ou lorsque la limite de points a été atteinte remporte la partie.
une nouvelle zone litigieuse : Chantiers Navals Kuat. La République et l'Empire font appel à leurs meilleurs hommes pour tenter de prendre le contrôle des Chantiers Navals Kuat, un chantier naval orbital très disputé doté d'un des sites de fabrication les plus prolifiques de la galaxie.  Chaque nouvelle partie des Chantiers Navals Kuat vous permettra de découvrir une série de scénarios de combat aléatoires différente.
Nous vous informons que, pour l'instant, nous ne proposons pas de service clientèle pour ce serveur de test. Si vous essayez de remplir un ticket en jeu, vous recevrez un message d'erreur et le ticket ne sera pas traité. Veuillez utiliser les forums du serveur public de test pour nous faire part de vos commentaires ou des problèmes qui peuvent survenir. Les politiques de jeu habituelles s'appliquent. Aucun comportement inapproprié ou insultant ne sera toléré sur ce serveur de test et nous vous demandons de signaler ici ce genre de comportement à l'assistance clientèle.
Pour accéder au serveur public de test :
Connectez-vous au programme de démarrage de Star Wars: The Old Republic à l'aide de votre nom d'utilisateur et de votre mot de passe.
Cliquez sur l'icône Paramètres (en forme de rouage) située dans le coin inférieur gauche du programme de démarrage du jeu.
Sous "Activer l'accès au serveur de test public", sélectionnez "Oui".
Cliquez sur "Sauvegarder".
Deux boutons s'affichent dans le coin inférieur gauche. Sélectionnez le nouveau bouton, à côté de celui des paramètres.
Sous "Choisir un environnement", sélectionnez "Public Test".
Cliquez sur "Suivant" pour commencer à télécharger le patch du serveur public de test.
Cliquez sur "Jouer".
Pour transférer votre personnage sur le serveur public de test, suivez les instructions ci-dessous :
Connectez-vous à www.swtor.com/fr.
Cliquez sur le nom du compte, dans le coin supérieur droit du site.
Cliquez sur "Mon compte".
Faites défiler la colonne de gauche et cliquez sur le lien intitulé "Copie de personnage sur serveur public de test".
Sélectionnez le serveur puis le personnage que vous souhaitez copier.
Cliquez sur "Copier personnage".
Le statut de votre copie sera affiché sur le site, en haut de la page. Vous pouvez également cliquer sur "Consulter l'historique de vos transferts de personnage" pour savoir si la copie est terminée.
N'oubliez pas de cliquer ici pour consulter les notes actuelles de la mise à jour 2.6.
Nous vous remercions pour vos commentaires et votre participation.
L'équipe de la communauté Star Wars: The Old Republic
---
Spiel-Update 2.6 jetzt auf dem öffentlichen Test-Server!
Spiel-Update 2.6 ist ab sofort auf unserem öffentlichen Test-Server verfügbar! Probiert jetzt die neueste Schiffsrolle im Galaktischen Raumjäger aus - den Bomber! Macht mit, probiert alles aus und gebt uns euer Feedback im öffentlichen Test-Server-Forum.
Spiel-Update 2.6 auf dem öffentlichen Test-Server enthält eine Reihe neuer Features:
Eine neue Schiffsrolle: den Bomber. Der Bomber wurde im Galaktischen Raumjäger mit insgesamt sechs neuen kaufbaren/freischaltbaren Schiffen hinzugefügt!
Neuer Spielmodus: Team-Deathmatch. Team-Deathmatch ist ein neuer Spielmodus, in dem die Spieler in Teams gegeneinander antreten. Das Team, das die meisten Abschüsse erzielt hat, wenn die Zeit vorbei ist oder die Punkte-Obergrenze erreicht wurde, gewinnt.
Neuer Flashpoint 'Kuat Drive Yards'. Die Republik und das Imperium rufen ihre größten Helden, um sich dem Kampf um die Kontrolle über die Kuat Drive Yards anzuschließen - eine stark umkämpfte orbitale Werft eines der wichtigsten Kriegsschiff-Hersteller der Galaxis.  Jedes Mal, wenn ihr um die Kuat Drive Yards kämpft, besteht die Chance, dass euch ein neues, zufälliges Kampf-Szenario erwartet.
Beachtet bitte, dass wir zu diesem Zeitpunkt keinen Kundendienst für diesen öffentlichen Test-Server anbieten. Beim Versuch, ein Kundendienst-Ticket abzuschicken, erscheint eine Fehlermeldung und das Ticket wird nicht bearbeitet. Bitte benutzt die öffentlichen Test-Server-Foren, um euer Feedback zu posten und Probleme zu melden. Alle üblichen Spiel-Richtlinien sind in Kraft. Unangemessenes oder beleidigendes Verhalten wird auf dem Test-Server nicht toleriert und wir bitten euch, solche Vorfälle hier beim Kundendienst zu melden.
Um auf den öffentlichen Test-Server zu gelangen:
Meldet euch im Star Wars: The Old Republic-Startprogramm mit eurem Benutzernamen und Passwort an.
Klickt auf die Schaltfläche 'Einstellungen' (das Rädchen) in der linken unteren Ecke des Startprogramms.
Bei "Zugang für öffentlichen Test-Server aktivieren" wählt ihr "Ja".
Klickt auf "Speichern".
In der linken unteren Ecke befinden sich nun zwei Schaltflächen: Wählt die neue Schaltfläche neben den Einstellungen.
Wählt bei "Eine Umgebung aussuchen" die Option "Öffentlicher Test".
Klickt auf "Weiter" und der Patch-Vorgang für den öffentlichen Test-Server beginnt.
Klickt auf "Spielen".
Um euren Charakter auf den öffentlichen Test-Server zu transferieren, führt diese Schritte durch:
Meldet euch bei www.swtor.com/de an.
Klickt auf euren Benutzerkonto-Namen in der rechten oberen Ecke der Seite.
Klickt auf "Mein Benutzerkonto".
Scrollt in der linken Spalte runter und klickt auf den Link "Charakter-Kopie (Öffentlicher Testserver)".
Wählt den Server und den Charakter aus, den ihr kopieren möchtet.
Klickt auf die Schaltfläche "Charakter kopieren".
Die Seite zeigt oben den aktuellen Status eurer Charakter-Kopie an. Außerdem könnt ihr auf "Charaktertransfer-Verlauf ansehen" klicken, um zu sehen, ob der Kopiervorgang abgeschlossen wurde.
Hier könnt ihr euch außerdem die aktuellen Patch-Hinweise für Spiel-Update 2.6 ansehen.
Wir wissen euer Feedback und eure Teilnahme zu schätzen.
Das Star Wars: The Old Republic-Community-Team