Community News
11.01.2012
Community Round-Up: November 1st, 2012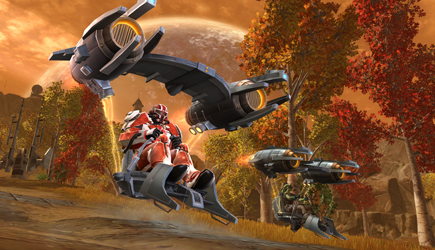 Welcome!
It's time for the Community Round-Up. Each week, we scour the forums, fan sites, and reddit, finding some of the most interesting discussions in the community as well as player-created events happening on certain servers in The Old Republic™.
If you have nominations for next week's Round-Up, please post them in this thread. Please remember the Community Round-Up blog is meant to highlight interesting, productive discussions and server events - not the most talked about forum threads.
Let's get started!
Server Events
Get to know the community on your server by participating in player-created events. Below are some occurring this week! Be sure to take a look at the Server Forums to find other events happening on your individual server.
SWTOR Subreddit
Forum Round-Up
Cinematic Jedi Knight Storyline [video]: Nerumi has put together videos of all the cinematics from the Jedi Knight storyline.
VigDiath: "Very nicely put together video!! Made me think back to when I first started playing this game and the reason I won't stop! Good job!"
VanderII: "i'm a your fan. very nice work"
[Guide] Augments and Augmentation Slots: Rishathra created this great guide to help players with augments and augmentation slots.
Goldenstar: "Great post! =D"
POT5 OPEN WORLD PVP: Empire Invasion of Republic spaceport on Alderaan: Check out this epic battle that took place on Alderaan earlier this week.
VanderII: "Oh yeha that's nice: invasion; fighting with players, that is what I'm looking for in swtor"
LordArtemis: "I say bravo, and wish there was more of this. Raids like this make the world feel more alive and vibrant IMO, and really liven up things in games. Hopefully we see more of this kind of thing in the future."
Thank you for all of the fun and interesting discussions this week! There are many other great conversations happening in the forums that are not on this list so be sure to look around. Please don't forget to nominate your favorite threads and events for next week's Round-Up by posting here!