Community News
11.16.2012
Community Round-Up: November 16th, 2012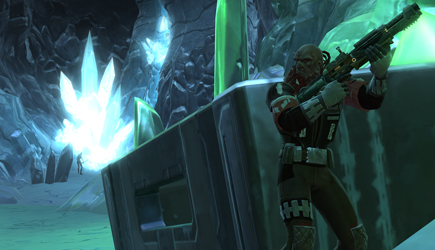 Welcome!
It's time for the Community Round-Up. Each week, we scour the forums, fan sites, and reddit, finding some of the most interesting discussions in the community as well as player-created events happening on certain servers in The Old Republic™.
If you have nominations for next week's Round-Up, please post them in this thread. Please remember the Community Round-Up blog is meant to highlight interesting, productive discussions and server events - not the most talked about forum threads.
Let's get started!
Server Events
Get to know the community on your server by participating in player-created events. Below are some occurring this week! Be sure to take a look at the Server Forums to find other events happening on your individual server.
SWTOR Subreddit
Fan Site Spotlight
Forum Round-Up
What is your Favourite Speeder?: AshlaBoga asks the community what's to name some of their favorite speeders in the game. Some of your answers included:
MidichIorian: "The broken one from the world event on Nar Shaddaa. The only downside is that it's not as fast as the other speeders."
Anysao: "Depends what mood I'm in. I love the Tirsa elite. I got it from Karagga SM a long time ago. It just looks like a piece f junk a hutt would use, but it's cool at the same time. Does that make sense? And, of course, I want that avalanche tank!! Too bad I don't have a guild for Nightmare mode Explosive conflict."
Replayable storyline: Shaladin asks which class story the community thinks is the most replayable – without sharing too many spoilers! Below are some of your answers:
Kalistea: "I would say imperial agent, the story can take a very different turn depending on your alignment. And also your gender, I'm leveling a male agent now and he definitely has way more flirting opportunities than my female agent"
Khayleth: "Trooper has a significant number of differences based on the path you take between Light and Dark."
Thank you for all of the fun and interesting discussions this week! There are many other great conversations happening in the forums that are not on this list so be sure to look around. Please don't forget to nominate your favorite threads and events for next week's Round-Up by posting here!