Community News
07.25.2012
Community Round-Up: Events and Forums July 25th, 2012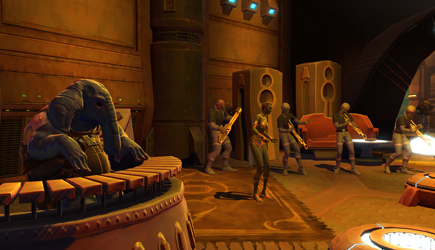 Hello everyone!
Welcome to this week's Community Round-Up. Each week, we highlight some of the most interesting discussions in the community as well as player-created events happening on certain servers in The Old Republic™. While most of these discussions occur on our forums, we also try to look at what people are saying about Star Wars™: The Old Republic™ on other sites whenever we can.
If you have suggestions for next week's Round-Up, please nominate them in this thread.
Let's get started!
Server Events
Get to know the community on your server by participating in player-created events. Below are some occurring this week! Be sure to check out the Server Forums to find other events happening on your server.
Forum Round-Up
Making a character that "Fits": Breidr discusses some of the challenges in naming characters. Some of your helpful suggestions included:
Alricka: "For a name, as long as it isn't something utterly silly, you have a clean slate. I'm no linguist, so may be wrong, but I don't believe that there is any sensible linguistic naming pattern when it comes to Star Wars. You might have a Norse name, you might have an Asian name, you might have a Latin name... it will fit."
Striges: "The on-board random name generator isn't bad. I've named two characters that I enjoy playing just by hitting the "random" name button until I saw something I liked, then played around with it a bit (drop a letter, add an apostrophe, etc) until I really liked it."
Post your imperial agent looks!: Sahilio asks you agents out there to post your looks! Below are a couple faces of Cipher Nine:
Choosing your Sidekicks...: Lunafox asks the community if they could choose any companion from any class which would they choose and why? Some of your answers included:
Elliotcat: "I'd have the ultimate girl power team: Vette, Risha, Kira, Elara, and Ashara. Every time we finish a mission, we'd go to Nar Shaddaa to drink girly drinks and talk about relationships. It'd be the best thing ever."
Darth_Cheesecake: "SW: Dark Jaesa, Kaliyo, Khem, Bliz, and Lokin. Just imagine the parties!"
[Guide] Endgame Reverse Engineering: Have questions about reverse engineering? Goldenstar has put together this helpful guide!
Goldenstar: "Added information about reversing mainhand/offhand/armor shells"
Ryanbeast: "Nice post!"
Funniest line in game?: Anysao asks the community which lines they found the most hilarious in The Old Republic.
Syart: "My Sith inquisitor, after helping someone: 'Just doing my good deed for the decade.' LOL, such a Sithy thing to say.'"
Phrase: "Player: 'First I took a durasteel can opener and some old Jawa juice and rigged a bomb...'"
Thank you for all of the great discussions this week! There are many other interesting conversations happening in the forums that are not on this list so be sure to look around. Please don't forget to nominate your favorite threads and events for next week's Round-Up by posting here!