Developer Blogs
02.04.2014
Welcome to Game Update 2.6 Blog
Greetings and welcome to Game Update 2.6! Today marks the official launch of Galactic Starfighter as we welcome our Free-To-Play players into the world of exciting 12v12 space combat!
For those of you who haven't yet experienced Galactic Starfighter, now is the perfect time. Starting today, anyone with an account can log into the game and immediately access all that Galactic Starfighter has to offer . We have many new additions and improvements to the game including a brand new role in the Bomber and a new gameplay mode, Team Death Match!
The Bomber plays an important role and can be a great ally, or a tough foe, in combat. The Bomber is primarily a heavily fortified support ship that can drop mines and drones throughout the battlefield in order to give its allies a unique advantage. Mines provide excellent area defense support as they can cripple any enemy ship that gets too close. Drones can offer support in the form of laser cannons, missiles, repair or even hyperspace beacons that provide spawn points for allies within the zone.
Team Death Match is something that we have been hearing many requests for and we are happy to open up this gameplay mode on both maps, The Lost Shipyards and Kuat Mesas. The objective is simple: destroy as many enemies as you can as quickly as you can! Power-ups are another new addition to the game that comes with Team Death Match. They are found in various places throughout the map and provide a boost to the player that picks them up. There are 4 different kinds of Power-ups: Engine Overcharge, Weapon Overcharge, Shield Overcharge and Damage Overcharge. Power-ups are only temporary and will respawn during gameplay.
Wait, did you think that was everything? Well guess what? Galactic Starfighter has also been updated with a Battle Record and a detailed scoreboard! The Battle Record is accessed via your hangar and keeps a detailed record of your lifetime statistics within Galactic Starfighter. Players who have been engaged in Galactic Starfighter matches since 2.5 will notice that their lifetime stats are already in place as the Battle Record works retroactively! It also provides you the ability to link your stats to show off in chat. The detailed scoreboard can be seen after each battle and gives you all kinds of valuable information including kills, deaths, damage dealt/received, objective captures and more.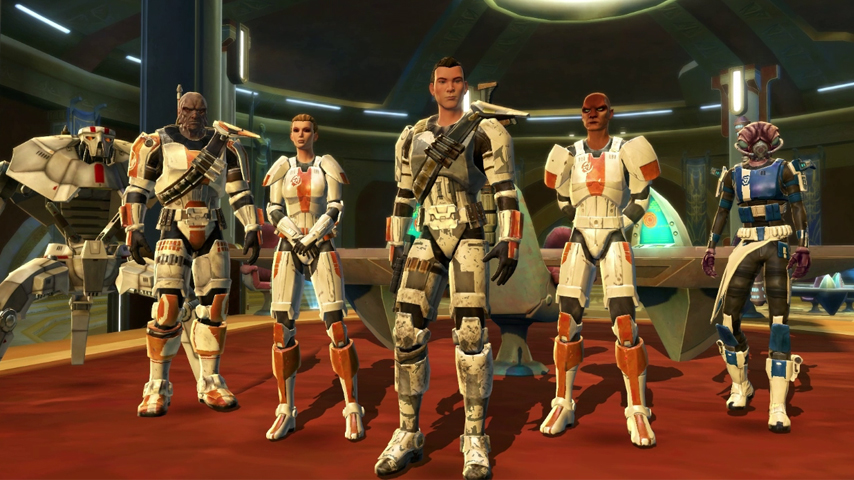 Game update 2.6 also introduces a new category in Group Finder: Tactical Flashpoints. Tactical Flashpoints are role-neutral, meaning Group Finder will match the first four players it finds, regardless of their role. The first Tactical Flashpoint, Kuat Drive Yards, is available to players starting at Level 15, and it will match players across a very large level bracket using bolster, making it a great way for players of disparate levels to play together. Additionally, each time you play Kuat Drive Yards, your objectives are randomized, giving you the potential for a new experience each time.
So as you can see, the Star Wars™: The Old Republic™ development team has been hard at work providing not only enhancements to existing features, but also introducing a new ship role, gameplay mode and an entirely new flashpoint!
It goes without saying that it's an exciting time to log in and play Star Wars: The Old Republic! See you in game!
Jack Wood
Producer