News Articles
06.12.2013
Earn New Bonuses for Guild Recruits!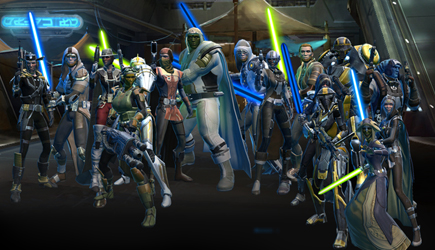 Earn new in-game bonuses as part of the Star Wars™: The Old Republic™ Guild Rewards Program – Now Live!
In addition to earning +5% Guild XP Bonus for simply being in a guild, players can now earn +1% Guild XP Bonus and +1% Reputation Bonus for every five active guild members recruited for a total maximum of +10% for each bonus. So whether you're already in a guild or are looking to join or create one, jump in now to take advantage of these new bonuses!
Visit www.StarWarsTheOldRepublic.com/guildrewards for more details.
Stay connected to www.StarWarsTheOldRepublic.com or find us on Facebook, Twitter, and YouTube!