News Articles
12.13.2011
Early Game Access Has Begun
Early Game Access Has Begun!
Last month we revealed the details about Early Game Access*, in which players who pre-ordered Star Wars™: The Old Republic™ would have the opportunity to play the game several days prior to its official game launch on December 20, 2011, 12:01AM EST (Pacific: December 19th, 9:01PM PST; European: December 20th, 05:01AM GMT, 06:01AM CET). We are excited to inform you that we have begun inviting customers who have pre-ordered the game and redeemed their Pre-Orders at our Code Redemption Center into the Early Game Access program, and we will continue to bring more people in as we get closer to launch!
Early Game Access will still be staggered, allowing blocks of players in at a time to ensure a quality experience for everyone. Once your account has been granted entry into Early Game Access, you will receive an email informing you that you're in, as well as where you can download the Game Client if you haven't done so already, so check your email inbox! Another way to see your Early Game Access status is to log in to www.StarWarsTheOldRepublic.com and visit My Account >> Pre-Order. Once you've installed the Game Client, all you have to do is log into the game with the account associated with your Pre-Order Code redemption.
Early Game Access will end on December 19th, shortly before the official launch at 12:01AM EST on December 20th. During that time, we will be bringing down all servers for a short period before the launch of the Game.
So how do you gain entry into Early Game Access? All you have to do to qualify for Early Game Access is pre-order a copy of Star Wars: The Old Republic and redeem your Pre-Order Code at our Code Redemption Center before the official launch of the Game. There's still time for you to get in on Early Game Access before it ends so pre-order your copy of Star Wars: The Old Republic right now!
Get Ready to Play at Launch
While we are excited to have people getting into the game, we also want to ensure that your account is ready to go on launch day. To that end, we have updated your Account Summary page with a checklist showing you which steps you need to complete in order to guarantee that your account is ready to play the game. These steps include answering security questions, filling out your contact information and redeeming your final Game Product Registration Code. You can see which steps you've completed, and which you still need to complete, by visiting your Account Summary page right now!
Secure your Old Republic Account
Increase the security of your account with The Old Republic Security Key! Available as a physical or mobile security key, this optional security key takes only a few minutes to set up and gives your account an additional layer of Two-Factor authentication, providing much greater protection against unauthorized access even if your computer becomes compromised. Plus, as an added bonus for picking it up you will have access to a special in-game vendor who will offer you exclusive gear and items.
The Physical Security Key is currently available for sale in North America for $6.50 via Origin.com, and will be available in Europe soon for £8.99/€12.99 at Orign.com. A mobile security key app will be available for free download soon so stay tuned for more details!
Already have a security key? Set it up now!
Pre-Paid Game Time Codes
You can also purchase 60-Day Pre-Paid Game Time Codes through Origin.com starting today. These Game Time Codes will grant you 60-days of game access, and cost $29.99 in North America. Pre-Paid Game Time Codes will be available soon in Europe through Origin.com and will cost £18.99 in the United Kingdom and €26.99 throughout the rest of Europe.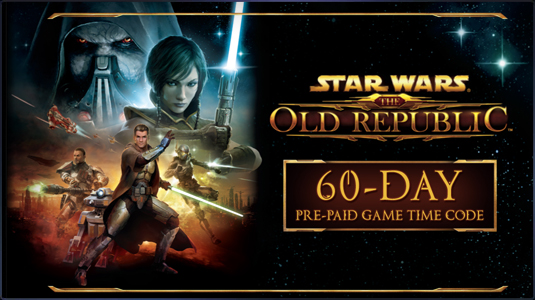 Purchase a Digital Upgrade Pack
We are also offering a Digital Upgrade Pack for individuals who purchased and redeemed a Product Registration Code for the Standard Edition of Star Wars: The Old Republic, but want to have access to the following in-game items:
Flare Gun
Training Droid
HoloDancer
HoloCam
STAP In-Game Vehicle
The Digital Upgrade Pack is available exclusively through StarWarsTheOldRepublic.com for $19.99/£14.99/€19.99. Learn more!
See the New Player Guide
Finally, we realize that for many of you this will be the first time you experience a Massively Multiplayer Online Role-Playing Game. To help ensure that you have the good experience playing The Old Republic, we've published a New Player Guide that will walk you through the steps of creating your character, picking your server and guiding you through the basics of the game.
See you in the game and don't forget that you can follow all the latest news on the game by liking us on Facebook and following us on Twitter!
Have more questions? Visit the Launch FAQ for more details.
*Customers who redeem their Pre-Order Code at the Code Redemption Center prior to launch will be able to pre-load the Star Wars: The Old Republic Game Client before the official Game launch. Pre-loading the Game does not grant you access to the Game. Pre-Ordering the Game only allows you access to the Early Game Access period and your Color Crystal. Early Game Access may be up to 7 days. The length of your Early Game Access depends on the date and order in which you redeemed your Pre-Order Code. In order to continue playing the Game after the Early Game Access period, you must redeem your official Game Product Registration Code at the Code Redemption Center.
---