News Articles
08.05.2011
2011 San Diego Comic-Con Highlights and Wrap-Up

Star Wars™: The Old Republic™ was a big hit at the 2011 San Diego Comic-Con! Thousands of fans visited the booth on the showfloor and the BioWare Base at the nearby Hilton Gaslamp hotel. They played through Origin Worlds, Flashpoints, and even got to be among the first to play PvP. The crowds were incredible and once again we are grateful for the consistently positive responses to the game.
We were also blown away by the number of fans who packed the conference hall for the "Join Us – It Is Your Destiny" Star Wars: The Old Republic panel. Director of Production Dallas Dickinson led a panel that included James Ohlen, Rich Vogel and Stephen Reid in a packed room of over 2,000 passionate Star Wars™ and BioWare fans. During the panel, fans got to see the new 'Join the Fight' trailer, and were the first to learn about some new content and features in The Old Republic.
One of the many announcements made during the panel was that players will have the ability to change the appearance of their companion characters, allowing them to select from a number of different options to ensure that their Star Wars saga is just a little more personal. We also unveiled some new designs for our in-game vehicles as well as gave those in attendance a brief glimpse of how choices made early in your character's story can have effects that ripple throughout your hero's journey.
Right across the street from the convention center, fans were able to get additional hand-on with Star Wars: The Old Republic at the Hilton Gaslamp hotel, where they were able to experience intense Player-vs-Player combat on the war-torn planet of Alderaan. Some fans were also able to play through the first hour of either the 'Black Talon' or 'Esseles' Flashpoints! Throughout the weekend we also held several Q&A sessions with developers where they fielded questions put forward by the fans in attendance, as well as questions asked on our Twitter and Facebook pages.
For those of you who weren't able to join us in San Diego, we've put together a highlights video to share the San Diego Comic-Con experience with everyone. BioWare and LucasArts thank each and every one of you for your continuing support and excitement for Star Wars: The Old Republic!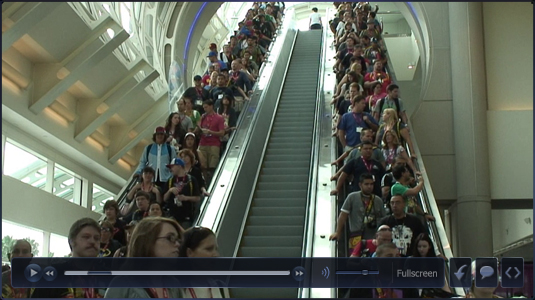 ---