News
09.05.2012
Game Update 1.4 is Now Live on PTS!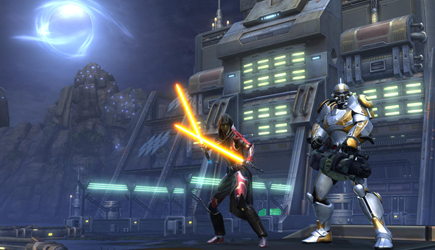 Game Update 1.4 is now live on our Public Test Server! For those of you that already have high level, copied characters on our Public Test Server, we encourage you to explore the New Operation and the other new features on the Public Test Server right now. Get on, check everything out, and give us your feedback by posting on the Public Test Server forum. Unfortunately, we won't be able to offer the ability to copy characters for this test nor will there be any rewards offered for testing. We apologize for any inconvenience that this may cause.
Game Update 1.4 contains our newest Operation, Terror From Beyond. Along with this new high-level content you will also find a host of new features including:
New Weapons and Armor – Upgrade your characters' effectiveness and appearance with the Legendary Dread Guard gear.
Improved Group Finder –Join a group for an Operation or Flashpoint and return to your previous location when you've completed the mission.
Unify Colors for Companions – You can now select an option to match all your companion's gear to his or her chest piece for a more stylish look.
New 'Facial Expression' Emotes – A new set of slash commands will allow you to set your character's expression. Let the rest of the galaxy know how you really feel.
Thank you for testing!
---
Mise à jour 1.4 disponible sur le serveur de test !
La mise à jour 1.4 est désormais disponible sur le serveur public de test ! Pour ceux qui ont déjà des personnages de haut niveau copiés, nous vous encourageons à explorer dès maintenant la nouvelle opération et les nouvelles fonctionnalités que nous avons ajoutées. Parcourez tout le contenu et donnez-nous votre avis en postant sur le forum du serveur public de test (notez que ce forum n'est disponible qu'en anglais et que par conséquent il faudra intervenir dans cette même langue si vous souhaitez y participer). Malheureusement, nous ne sommes pas en mesure d'offrir la possibilité de copier des personnages pour ce test, de même qu'il n'y aura pas de récompenses disponibles pour avoir testé la nouvelle mise à jour. Nous vous prions de nous excuser pour la gêne occasionnée.
La mise à jour 1.4 contient la toute nouvelle opération, Cauchemar venu d'ailleurs ainsi que du nouveau contenu de haut niveau incluant, mais pas que, les fonctionnalités suivantes :
Nouvelles armes et nouvelle armure - Améliorez l'efficacité et l'apparence de vos personnages grâce à l'équipement Garde d'Effroi légendaire.
Recherche de groupe améliorée - Rejoignez un groupe pour une opération ou une zone litigieuse et, une fois la mission terminée, retournez à l'endroit où vous étiez.
Unification des couleurs des partenaires - Une option vous permet maintenant d'unifier l'équipement de votre partenaire en fonction de ce qu'il ou elle porte sur le torse pour un look encore plus recherché.
Nouvelles emotes "Expression du visage" - Modifiez l'expression de vos personnages grâce à de nouvelles commandes et dites au reste de la galaxie comment vous vous sentez vraiment.
Nous vous remercions de tester la nouvelle mise à jour !
---
Spiel-Update 1.4 ist nun auf dem PTS!
Das Spiel-Update 1.4 steht nun auf unserem öffentlichen Testserver (PTS) bereit. Solltet ihr bereits einen hochstufigen Charakter auf dem PTS besitzen, könnt ihr nun die neue Operation und die anderen neuen Features auf dem PTS testen. Geht online, testet die neuen Dinge und gebt uns euer Feedback in den PTS Foren (WICHTIG: Die Foren sind ausschließlich in Englisch gehalten. Bitte verfasst Beiträge dort entsprechend ausschließlich in Englisch). Wir bitten im Entschuldigung, aber im Moment können wir leider keine Möglichkeit anbieten, eure Charaktere auf den PTS zu kopieren
Das Spiel-Update 1.4 beinhaltet unsere neueste Operation "Schrecken aus der Tiefe". Außerdem werdet ihr viele neue Funktionen finden, darunter folgende:
Neue Waffen und Rüstungen –Verbessert die Effektivität und das Aussehen eures Charakters mit den Gegenständen der legendären Schreckenswachen.
Verbesserter Gruppenfinder –Tritt einer Gruppe für einen Flashpoint oder eine Operation bei und werde nach Abschluss des Abenteuers wieder an die Stelle transportiert, an der du gestanden hast.
Rüstungsfarben anpassen für Begleiter – Ihr könnt nun eine Option aktivieren, um die Farben der Rüstung eures Begleiters an die Farben seiner Brustrüstung anzupassen und ihm so ein stylisheres Aussehen zu verleihen.
Neue Emotionen für Gesichtsausdrücke – Eine Reihe neuer "Slash-Befehle" lassen euch nun den Gesichtsausdruck eures Charakters bestimmen. Lasst den Rest der Galaxie wissen, wie ihr euch wirklich fühlt.
Vielen Dank, dass ihr diese neuen Funktionen testet!