DECEMBER AND JANUARY IN-GAME EVENTS
DECEMBER AND JANUARY IN-GAME EVENTS
Jump into your favorite in-game events!
JUMP INTO YOUR FAVORITE IN-GAME EVENTS ALL THROUGH DECEMBER AND JANUARY!
Relics of the Gree Event: November 27 - December 4
Bounty Contract Week: December 11 - 18
Life Day Event & Anniversary: December 11 – January 15
Double Rewards Event: December 20 – 31
Relics of the Gree Event: December 25 - January 1
Rakghoul Plague Outbreak on Corellia: January 8 - 15
Bounty Contract Week: January 22 - 29
Check back for more details on future in-game events.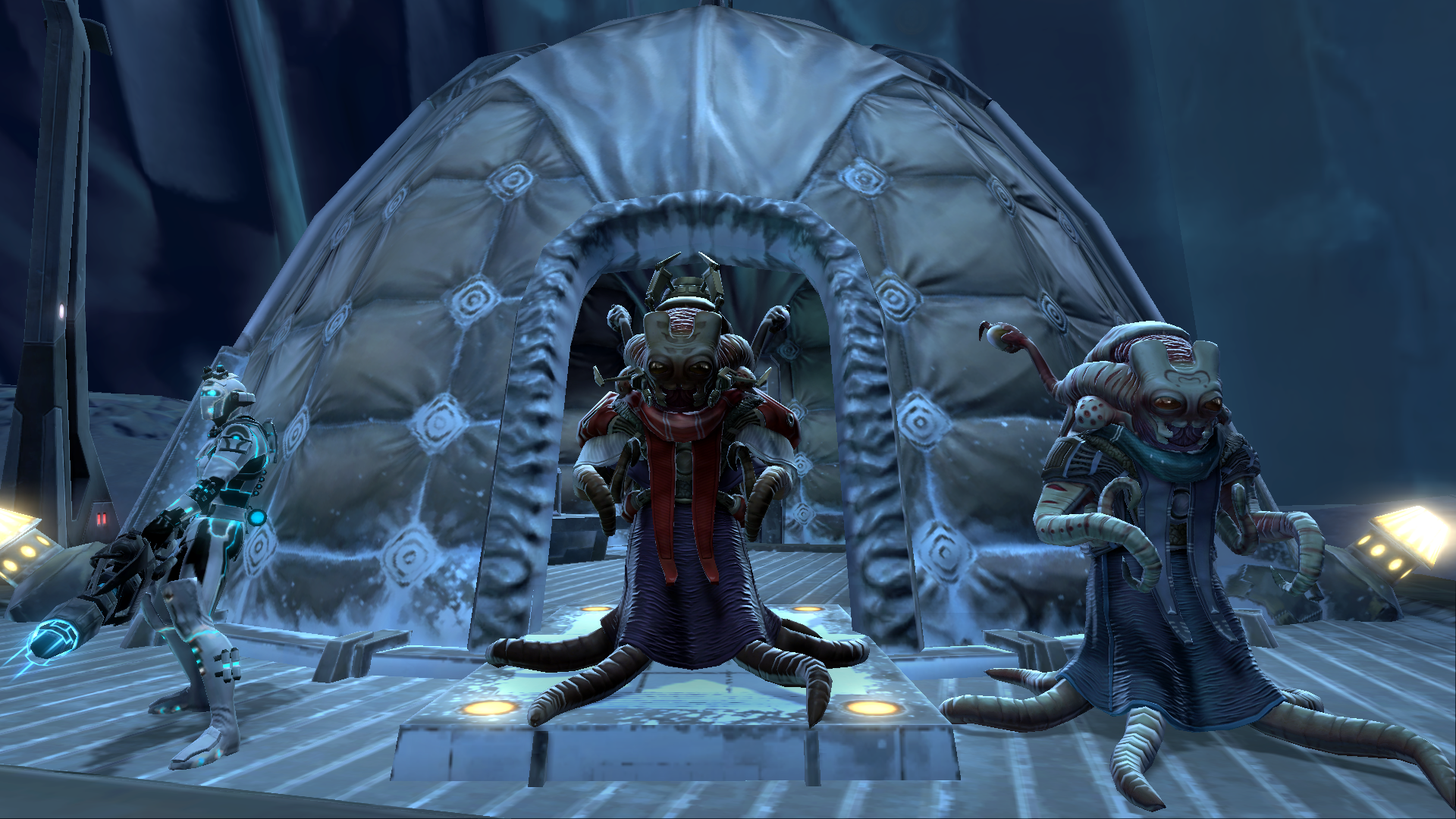 RELICS OF THE GREE EVENT
(NOVEMBER 27 - DECEMBER 4, 2018
DECEMBER 25, 2018 - JANUARY 1, 2019 : BEGINS AND ENDS AT 10AM PST/6PM GMT)
LEVEL
: Levels 50+
MISSION: Explore Ilum's contested area in the Western Ice Shelf to uncover the mysterious purpose of the Gray Secant, an enormous ancient Gree starship. Get ready to face a powerful opponent that awaits you at the center of this ancient vessel. Visit the in-game News Terminal located on Carrick Station in the Republic fleet or Vaiken Spacedock in the Imperial fleet to get started on your adventure!
FEATURED REWARDS:
Gree Digitization Cube (Gree-themed rest-and-recharge item)
Cyan Sphere (requires Snow Parcels from Life Day Event and Gray Helix Components from the Gree Event)
Reputation with the Gree Enclave
Armor: White, Red, Blue Scalene Armor
Weapons: Gray Helix Weapons, Gray Helix Lightsaber
In-game pets: L1-L Defender, L1-L Scout, Miniature Gray Secant
Mounts: Blue Sphere and Red Sphere Transport Enclosure Vehicles
…and more!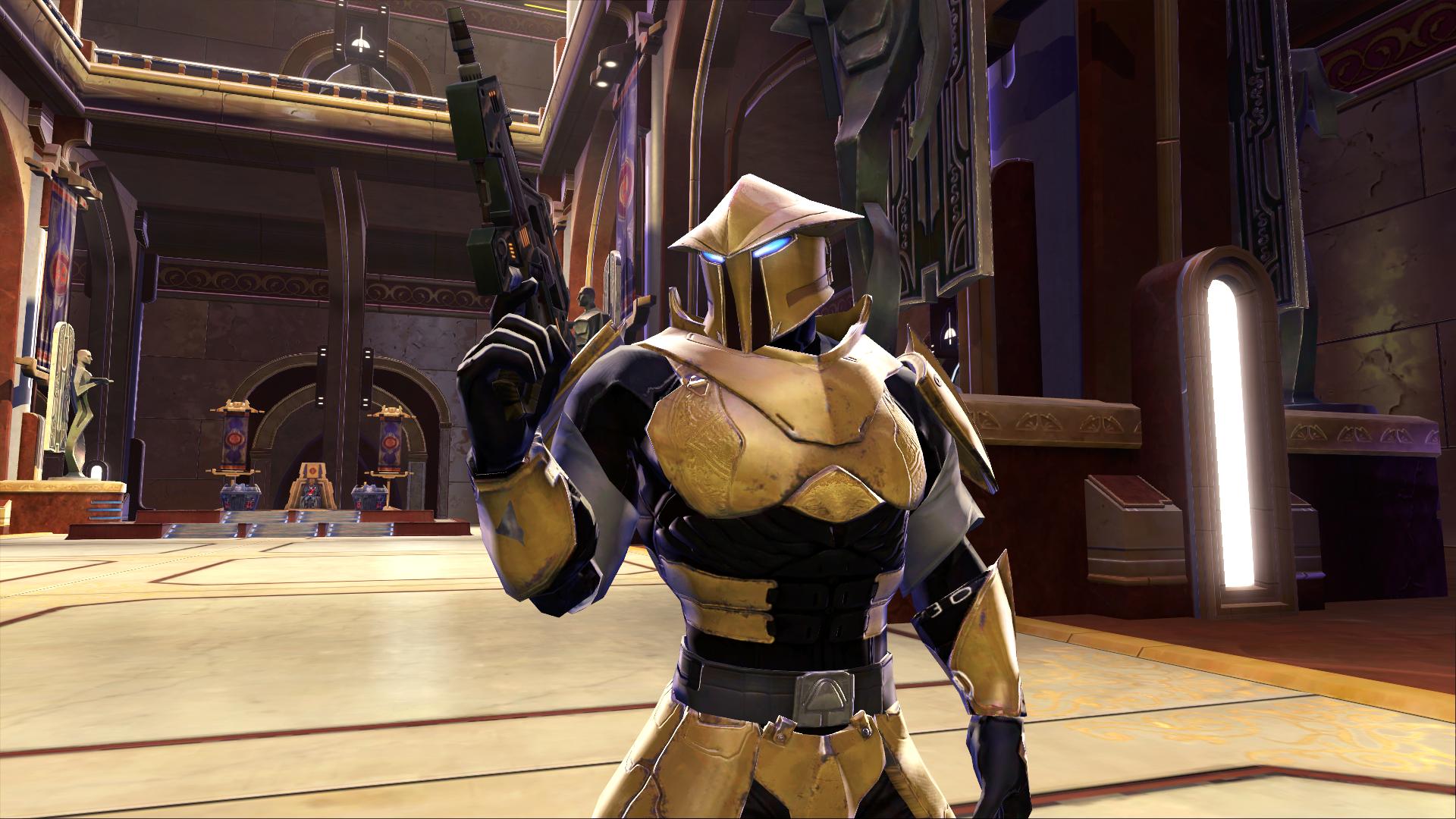 BOUNTY CONTRACT WEEK EVENT 
(DECEMBER 11 - 18, 2018
JANUARY 22 - 29, 2019: BEGINS AND ENDS AT 10AM PST/6PM GMT)
LEVEL
: LEVEL: Level 15+
MISSION: For a limited time, the Bounty Brokers Association has opened its doors to anyone willing to take on their dangerous contracts, offering an opportunity for both seasoned and rookie hunters to prove their skills and bring crime syndicates and violent gangs to justice! 
Each day, you can sign up for one standard "Henchman" contract and one high profile Kingpin Contract, and each may take you to a separate planet. Complete five standard contracts to unlock Kingpin missions with bigger loot! Head to the fleet now, invite your friends and visit representatives of the Association to get started on your contracts!
TO GET YOU STARTED:
Head to the fleet
Look for BBA representatives standing near carbonized bounties
Head to the Cartel Bazaar to use the mission terminals
Choose your mission, locate the target, kill or freeze it
Collect great rewards!
Repeat 5 times (1 a day per character) to unlock Kingpin missions!
FEATURED REWARDS:
Reputation with the Bounty Brokers Association
Armor: Bounty Tracker's Armor Set, Contract Hunter's Armor Set
Weapons: Assassin's Bowcaster, Elite Tracker's Bowcaster
In-game pets: Lobelot, Swamp Kell Drake, Drink Server Probe
BH-7X Custom Hunter Mount
…and more!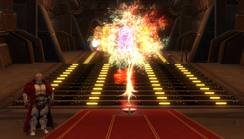 LIFE DAY EVENT 
DECEMBER 11, 2018 - JANUARY 15, 2019 (BEGINS AND ENDS AT 4AM PST/12AM GMT)
LEVEL
: Levels 10+ 
"A SPECIAL SNOWFLAKE" MISSION: Celebrate Life Day with three weeks of snowball fights! Every snowball you throw during the Life Day Event has a chance to award you with a Snow-Covered Parcel. Collect and exchange your Snow-Covered Parcels for festive rewards at the "Master of Ceremonies" located in the Galactic Trade Market sector in the Imperial and Republic fleets. Snowball Bombs and Fireworks can be purchased for credits from the Master of Ceremonies. Watch out for those snowballs!
FEATURED REWARDS:
Decorations: Wampa Rug, Snow Blower, Freezer Unit
Mount: Sleigh I, J0-1Y Mount
Blue-Purple Life Day Holo-Tree
Gold Life Day Holo-Tree
Fireworks: Life Day Tree
Achievements:

Jolly Parcel Peddler (Legacy Title: Life Day Celebrant)
Merry Life Day To All!
"PARCEL DROID" MISSION: Parcel Droids have been appearing on Dromund Kaas, Coruscant and Nar Shaddaa. Find one for a chance to get one of three new Life Day Holo-Trees. But be warned! Some of these Parcel Droids are overheating and will attack anyone who gets close. Cool them off by hitting them with a Life Day Snowball Bomb available from the Master of Ceremonies on the fleet – you just might become a "Holiday Hero!"
FEATURED REWARDS:
Red Life Day Holo-Tree
Blue Life Day Holo-Tree
Pink Life Day Holo-Tree
Green-Gold Life Day Holo-Tree
"Holiday Hero" title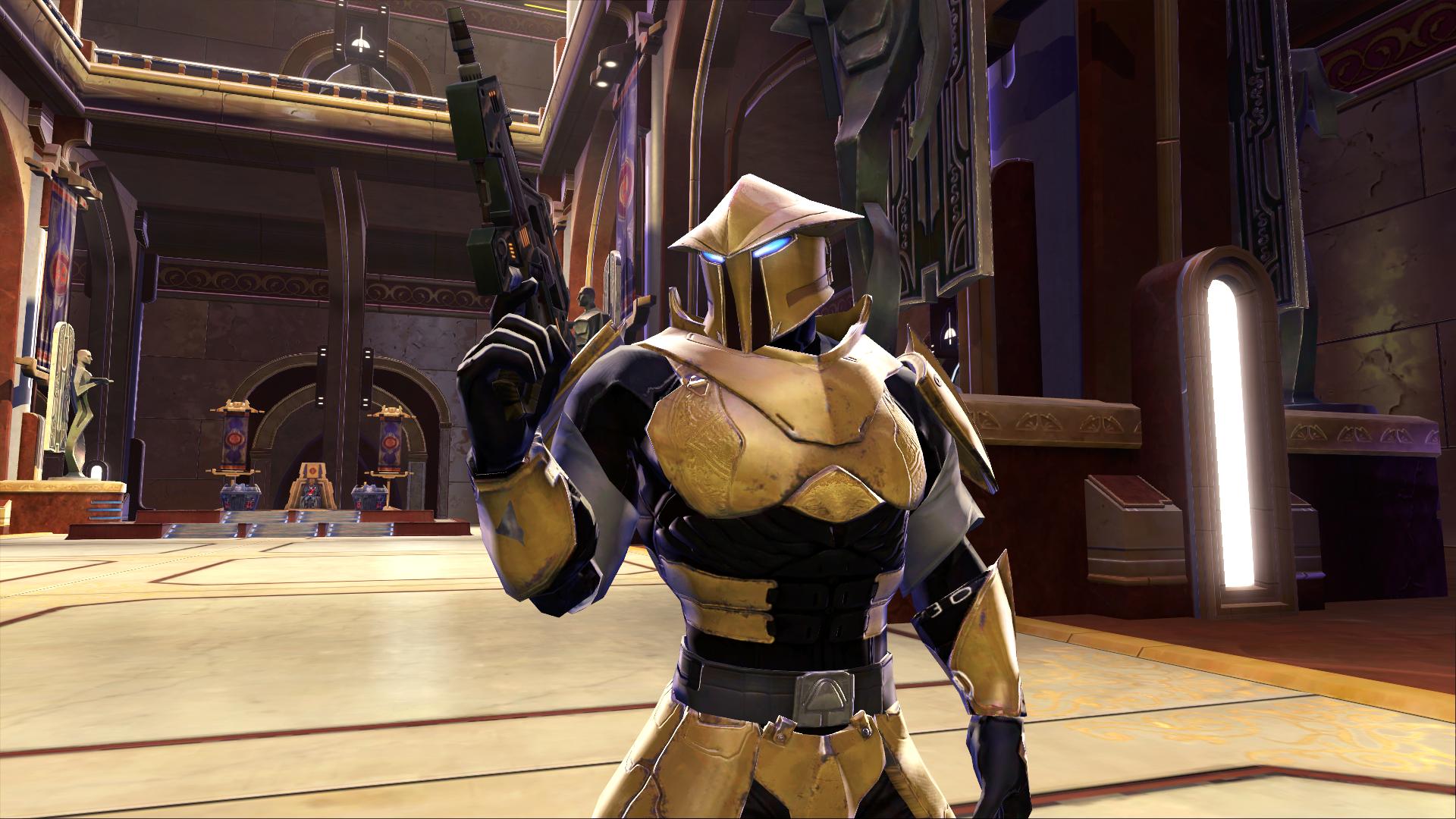 DOUBLE REWARDS EVENT 
DECEMBER 20  - DECEMBER 31, 2018: (BEGINS AND ENDS AT 4PM PST/12AM GMT)
LEVEL
: All Levels up to 70!
Enjoy a full week of double rewards: XP, Command XP, and much more!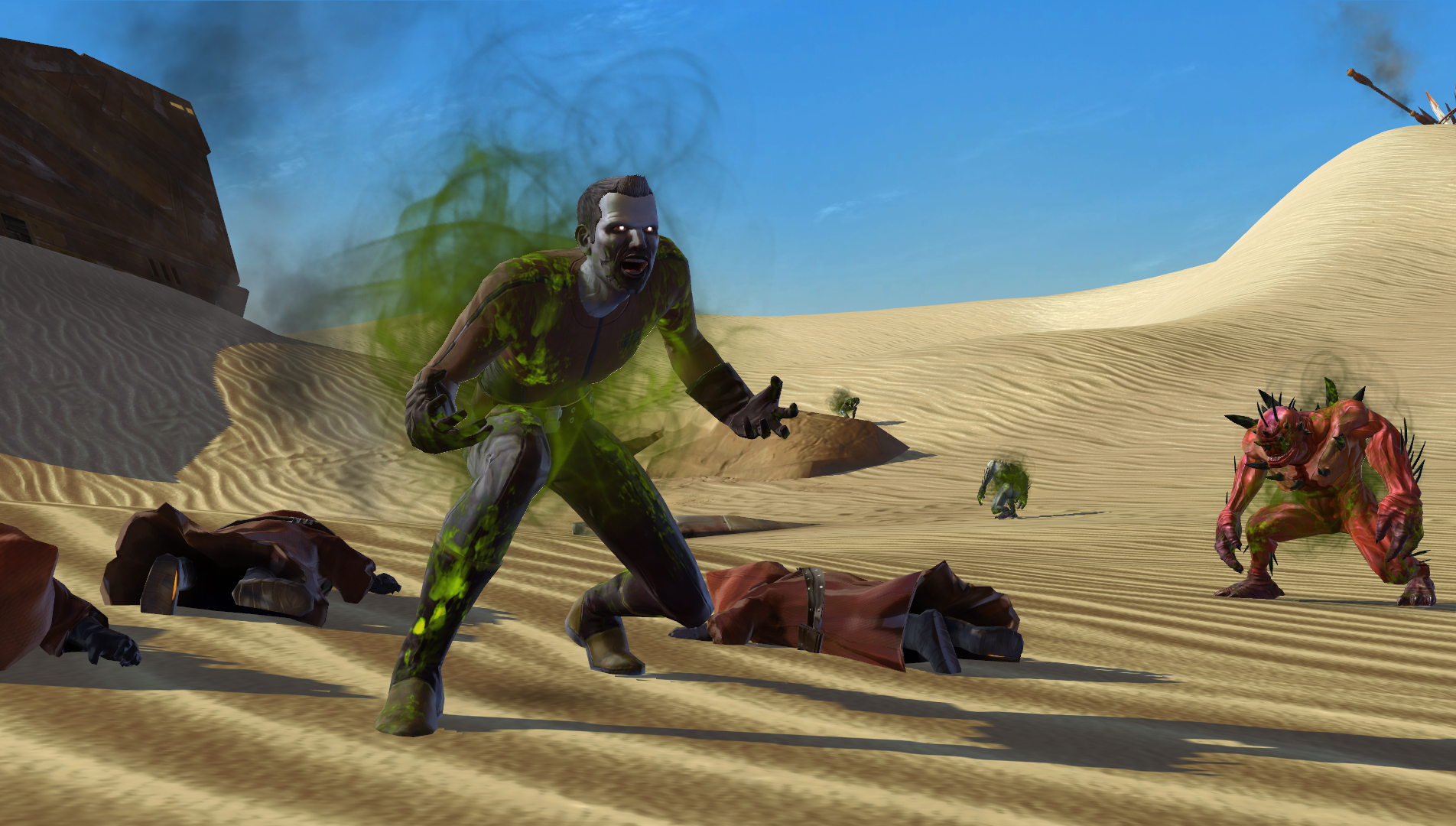 RAKGHOUL PLAGUE OUTBREAK ON CORELLIA
JANUARY 8 – 15, 2019 (BEGINS AND ENDS AT 10AM PST/6PM GMT)"
LEVEL
: Levels 25+
MISSION: The Hyland Organization for Rakghoul Neutralization (T.H.O.R.N.) has issued an official level-2 emergency alert concerning an outbreak of the Rakghoul plague on Corellia. Quarantines have been put in place to restrict traffic of the plague off-world, but exceptions will be made for individuals with priority clearance.
T.H.O.R.N. is recruiting qualified volunteer emergency responders to travel to affected areas to combat the spread of the Rakghoul plague. More information about the outbreak can be found by checking the News Terminals on the Republic or Imperial Fleet!
T.H.O.R.N. wishes to remind you that plague symptoms can be treated if they are identified in the early stages of infection. Whether or not you have travel plans, please consult your nearest trusted medical supply droid and get vaccinated!
FEATURED REWARDS:
NEW: Based on the early Mandalorian Crusaders, Merciless Seeker's Armor Set!
Alliance Contact -- Doctor Lokin: Recruitable during the Rakghoul Event
Exclusive Mounts: Infected Varactyl and Infected Dewback
THORN Epicenter and Dark Vector Armor Sets
Outbreak Response Weapons
Ferocious Rakghoul Mini-pets
…and more!