Community News
03.29.2013
Community Round-Up: March 29th, 2013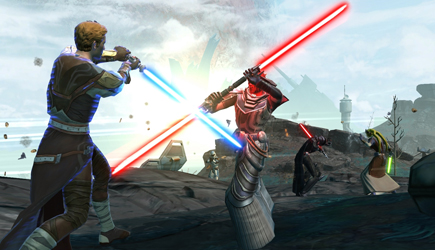 Happy Friday! Welcome to this week's Community Round-Up! Each week, we scour to find you the most active issues, interesting discussions, and player-created events happening on certain servers in The Old Republic™.
If you have nominations for next week's Round-Up, please post them in this thread.
Let's begin!
Server Events
Get to know the community on your server by participating in player-created events. Below are some occurring this week! Be sure to take a look at the Server Forums to find other events happening on your individual server.
Jung Ma - Stars In Their Courses (RP Event) "What it is: This is an RP event organized by the Justiciars, in association with the Knights of Sokan and Nexu Company. The Goal: Retrieve the Star of Suzerains (a Counterfeit Murustavan Ruby) from the Knights of Sokan, supported by Nexu Company. How: This event has two phases. First, an information gathering phase set to begin immediately. Second, a grand PVP finale in the Lawless Sands on Tatooine, to take place at 10:00pm EST on April 6th."

Tomb of Freedon Nadd - 1v1 CLASS TOURNAMENT!!!!! "Date: Wed 3rd April Time: 20:00 CET Prizes: -500k for each class winner (only if there is some real competitions, not 1 fight) - Grand prize for winner of 2nd tournament. Each player will fight EVERY other player class/mirror 3 times. Each win will give 1 point, with a maximum of 3 per fight. The player with most points at the end wins. After the class duels are over, it will move onto the exact same structure except the class winners will play against each other for title of "bestplayertofn" and a grand prize. (this wont happen if it is just sins facerolpng everyone.)"

The Shadowlands - +10 Datacrons and Founders Week Fun hosted by April 1st-8th "Founders Week is nearly upon us! Once again, we will partake in a week-long celebration of CotP, our members, our ideals and, of course, those special people who were there at the beginning to build the foundation which has kept us strong over these many years...To demonstrate part of the great story-telpng written into the SWToR MMO we're kicking off Founder's Week with a Tytphon Jedi Knight Forge Run! And everyone is invited! This event is Open to all."
SWTOR Subreddit
Forum Round-Up
Thank you for all of the fun and interesting discussions this week! There are many other great conversations happening in the forums that are not on this list so be sure to look around. Please don't forget to nominate your favorite threads and events for next week's Round-Up by posting here!