Community News
03.21.2013
Community Round-Up: March 21st, 2013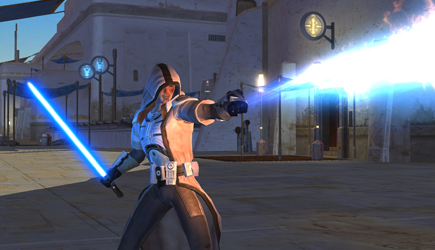 The Community Round-Up has returned! And you will probably notice it's a little different. While we will still continue to focus on server events and "fun" threads, we are now going to include some of the most active issue threads on the forums. Of course, this isn't going to be all active threads on the forums (otherwise I would just be copying and pasting General Discussion in this blog), but it will point you to selected key discussions for the week.
If you have nominations for next week's Round-Up, please post them in this thread.
Let's begin!
Server Events
Get to know the community on your server by participating in player-created events. Below are some occurring this week! Be sure to take a look at the Server Forums to find other events happening on your individual server.
Begeren Colony
Jedi Covenant
Jung Ma
Master Dar'Nala
Prophecy of the Five
The Ebon Hawk
Tomb of Freedon Nadd
SWTOR Subreddit
Forum Round-Up
Display Name Only Log In - Update 2 - Coming April 2, 2013: Head of SWTOR Security, Phillip Holmes answers some questions about the upcoming Display Name only log in change.
Can we get a response on the Ilum Boosting please?: Community Manager, Eric Musco answers player's questions about low level characters using the Heroic Mobs on Ilum to power level their characters. Our immediate fix will be to remove bolster from Ilum, but this is only a temporary solution. We will continue to investigate the issue and intend to have a more permanent solutation before the Relics of the Gree event returns.
Companions 101: Mako: Our latest Companions 101 blog came out this week. Players shared their favorite Mako moments in this thread as well as suggested Companions for upcoming blogs. For the Quinn fans out there, Community Production Specialist, Courtney Woods let them know that he will be the first Imperial Companion covered in our second round of the Companions 101 series.
Disappointed about so-called "New In Game Barber-Shop": Players discuss the upcoming customization feature mentioned in the State of the Game #3. Eric Musco addresses some of their concerns.
If Companions could post to the forums.: Companions have invaded the forums!
Nefash's Pilot Training School - Space Missions Resource: Soneil put together this amazing site with guides to The Old Republic space combat missions.
Thank you for all of the fun and interesting discussions this week! There are many other great conversations happening in the forums that are not on this list so be sure to look around. Please don't forget to nominate your favorite threads and events for next week's Round-Up by posting here!